April 27, 2021 - The Radical Left Democrat Party has gone absolutely INSANE in fighting the Forensic Audit of the 2020 Presidential Election Scam, right now taking place in the Great State of Arizona.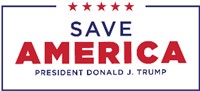 They sent a team of over 100 lawyers to try and stop it because they know what the result of the Arizona Senate sponsored audit will be—and it won't be good for the Dems.
The audit is independently run, with no advantage to either side, but the Democrats don't want to hear anything about it because they know that they lost Arizona, and other scam election States, in a LANDSLIDE.
They also know that the Arizona State Legislature approved virtually none of their many election requests, which is totally UNCONSTITUTIONAL.
The people of Arizona are very angry, as are the people of our Country. If we can't have free and fair elections, we don't have a Country.
The audit must continue. America deserves the TRUTH!