FRANKFORT, KY – Kentuckians will be able to pay court costs, fines and fees at ATM-like contraptions in select courthouses across Kentucky by next year.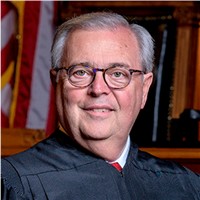 A pilot project to install the self-service kiosks by January 2022 in strategic locations throughout the state is costing $1 million, said Kentucky Chief Justice John D. Minton Jr. (left) while testifying before a meeting of the Interim Joint Committee on Judiciary. Minton said the money was part of the $14.7 million the General Assembly appropriated for judicial branch technology upgrades in House Bill 556 from the 2021 Regular Session.
If the pilot program is successful, additional kiosks could be placed in commercial locations, such as grocery stores or pharmacies, Minton said. Similar kiosks are already used in neighboring Virginia to offer essential court services outside of office hours.
The largest chunk of the appropriation, or about $10.6 million, is being spent on video arraignments and video conferencing equipment. Minton said not all of Kentucky's courtrooms currently have the technology to conduct video arraignments.
Another $2 million is being used to create a computer portal for self-represented litigants, or people who do not retain a lawyer for a court proceeding. Minton said the goal of the portal is to allow self-represented litigants to interact with the court, receive assistance and potentially create and file court documents.
Minton said the remaining $1.1 million is going to be used to improve the electronic filing, or e-filing, system. He said the judicial branch cannot achieve the potential cost savings associated with e-filing until it's mandatory across the state. One improvement will be the purchase of redaction software to protect personally identifiable information in the electronic court records.
Minton said the General Assembly appropriated $383 million for the judicial branch in fiscal year 2022. He said the majority of that figure covers the salary and benefits of all elected and non-elected personnel along with operating costs such as office supplies, travel and computer equipment. Minton stressed that court costs people pay do not fund the judicial branch.
Rep. John Blanton, R-Salyersville, said he would like to see part of those court costs go to the Kentucky State Police Forensic Laboratory System. He said the labs suffer from chronic underfunding that makes it hard to retain qualified technicians.
"After all, the labs are being used by every law enforcement agency across this state at no costs … to our agencies," Blanton said. "I don't see it as a tax. I see it as an offender who has broken the law that is paying their court costs. That money is being used to pay another component of our judicial system that is utilized by 120 counties across this state."
Administrative Office of the Courts (AOC) Director Laurie Dudgeon said it is up to the General Assembly to revisit the law dictating how court costs are spent. The AOC is the operational arm of the judicial branch that supports court facilities and programs in Kentucky.
Rep. Kimberly Poore Moser, R-Taylor Mill, asked what could be done to increase the collection rate of court costs.
"We have a constitutional prohibition from jailing people who are too poor to pay," Dudgeon said. "That is a balance we are always trying to strike."
Rep. Jason Nemes, R-Louisville, asked about a provision in HB 556 that requires the judicial branch to provide legislators a report on its budgetary process. Dudgeon stressed that the judicial branch would comply with that provision of HB 556. She added that judicial districts and circuits do not necessarily follow county lines, making it harder to track expenses by county.
END