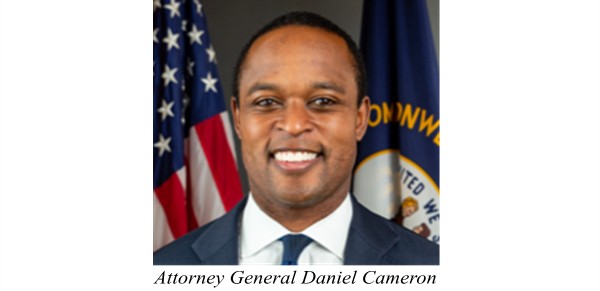 FRANKFORT, KY – Attorney General Daniel Cameron has announced his office was selected by the Zero Abuse Project to host a training symposium for Kentucky prosecutors and law enforcement focused on investigating and prosecuting technology-facilitated crimes against children. The symposium is titled "Stopping Technology-Facilitated Abuse of Rural Kids (STARK)" and focuses on equipping Kentucky multidisciplinary teams with the skills necessary to deliver justice for victims of child sexual abuse.
"Ending child abuse in the Commonwealth is a top priority for our office, and hosting the STARK Symposium for Kentucky's multidisciplinary teams brings us one step closer toward reaching this goal," said Attorney General Cameron. "As children spend more time online, they become increasingly vulnerable to online predators. I am thankful to Zero Abuse Project for helping us address this important issue by focusing this training on technology-facilitated crimes."
As part of Attorney General Cameron's commitment to end child abuse in the Commonwealth, he directed his Criminal Division to apply for the Zero Abuse Project's Trauma-Informed Prosecutor Project (TIPP). Through a competitive application process, the Zero Abuse Project selected the Attorney General's Office to host the STARK Symposium for Kentucky's multidisciplinary teams, which are comprised of local professionals who work together to respond to child abuse.
"Online exploitation of children is not only widespread, it is increasing during the pandemic," said Victor Vieth, Chief Program Officer, Education & Research for the Zero Abuse Project. "We are grateful to the Kentucky Attorney General for being proactive in taking steps to combat these crimes, protect children, and bring to justice those who prey on the vulnerable."
Kentucky's STARK Symposium will be held virtually on June 24-25, 2021. The curriculum will address technology-facilitated crimes against children, including digital forensics, child exploitation investigations, admissibility of social media and digital evidence, and other topics specifically designed to address the challenges Kentucky multidisciplinary teams face when they are investigating and prosecuting these crimes.
"Our Criminal Division plays an important role in ending child abuse in the Commonwealth by working directly with prosecutors, investigators, victim advocates, and other stakeholders to end the cycle of abuse," said Amy Burke, Assistant Deputy Attorney General for the Criminal Division of the Attorney General's Office. "We are thankful for the opportunity to further equip multidisciplinary teams with the tools they need to be successful."
As part of a cooperative agreement between the Office of Juvenile Justice & Delinquency Prevention, Office of Justice Programs, U.S. Department of Justice, and Zero Abuse Project, the non-profit will pay for expert instructors to present state-of-the-art training and comprehensive technical assistance at the symposium. As a host, Attorney General Cameron's office will promote the event, register attendees, apply for Continuing Legal Education credits, and provide a virtual venue for the training. Funding for continuing education credits is provided by the Child Sexual Abuse and Exploitation Prevention Board through the Child Victims' Trust Fund.
Multidisciplinary team members interested in the training can access the registration link here.