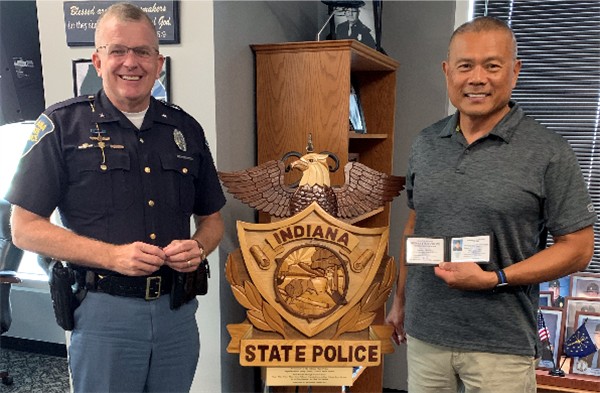 ISP Superintendent Doug Carter presenting retirement ID to "Luke"
Fort Wayne, IN - After 36 years of dedicated service to the citizens of Indiana, Sergeant Pornteb "Luke" Nathalang is officially retiring from duty with the Indiana State Police. This past Tuesday July 20th was Sergeant Nathalang's last official day on patrol at the Fort Wayne Post.
Whereas many officers nearing their last and final work day would probably prefer to "tie up some loose ends or finish up paperwork", anyone that knows Luke would tell you that is not in his character. True to form, Sergeant Nathalang spent his last day on patrol just like his first, hitting the streets with an assertive and proactive enforcement mindset, and conducting himself with the utmost integrity and professionalism.
Sergeant Nathalang was appointed as a trooper on November 18, 1984 after graduating the 42nd Indiana State Police Recruit Academy. Upon graduation, Probationary Trooper Nathalang was assigned to the Fort Wayne Post, where he would remain for the duration of his career.
Alongside his primary patrol and supervisory assignments, Nathalang has also served as a Field Training Officer, Speed Timing Instructor, and Crash Reconstructionist. From 1991 until 2004, he was a member of the Department's High Performance Vehicle program in which he patrolled in both the Ford Mustang and the Chevrolet Camaro. In October 2004, he attended and graduated from the Northwestern Harley-Davidson Police Motorcycle School, and began patrolling the Fort Wayne district's highways with the department's renewed motorcycle program. Nathalang was promoted to the rank of Sergeant in 2008 and served as a supervisor for the motorcycle patrol program. In 2014, after the motorcycle program was reorganized, Sergeant Nathalang was reassigned to serve as a District Squad Leader for the Fort Wayne Post, the position he maintained through his retirement.
Nathalang, a native of Thailand, immigrated to Fort Wayne as a young boy. He is a graduate of Concordia High School and Indiana Purdue-Fort Wayne (IPFW), where he earned a Bachelor's Degree in Architectural Engineering. He is a long-time resident of Allen County where he will continue to reside with his wife, Vicki. Together they have three adult children and five grandchildren.
As is customary for retiring personnel, a recognition luncheon was held at the Fort Wayne Post in his honor this past Monday. District Commander Lt. Corey Culler presented Luke with the U.S. flag that was flown over Post that day. On Wednesday, Superintendent Doug Carter presented Sergeant Nathalang with his official retirement identification.
-Luke, your Indiana State Police family bids you farewell as you enter this next chapter of life. We sincerely thank you for over 36 years of friendship, dedication, and leadership. You will be missed!
###