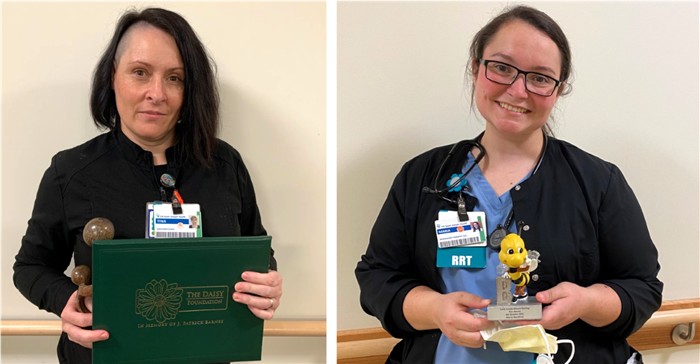 Tina Korossy and Maria Kendrick
MOUNT STERLING, KY (Oct. 21, 2021) – Saint Joseph Mount Sterling has named DAISY Award and BEE Award winners for the most recent quarter. Tina Korossy, RN, Women's Care, of Mount Sterling, received the DAISY Award for extraordinary patient care. Maria Kendrick, respiratory therapist, of Wellington in Menifee County, received the BEE Award for exceptional service.
The DAISY Award is a nationwide program that celebrates the extraordinary clinical skills and compassionate care given by nurses every day. Saint Joseph Mount Sterling is proud to be a DAISY Award Partner, recognizing a nurse with this special honor every quarter. A Saint Joseph Mount Sterling patient nominated Tina Korossy for the DAISY Award.
"I would like to nominate Tina and say thank you," said the patient. "She and the staff here are absolutely phenomenal, and I felt so welcomed. Tina never gave up on me, she truly goes above and beyond for her patients, and I appreciate that so much."
Like the DAISY Award, the BEE Award is a program that honors Saint Joseph Mount Sterling's nursing support staff – patient care assistants, housekeepers, respiratory therapists, health unit coordinators, dietary, transporters and various other team members – who go above and beyond in service, care and compassion. The BEE Award celebrates unsung heroes who make an impact outside their daily duties and go above and Beyond Exceptional Expectations (BEE). In the first quarter, Maria Kendrick was nominated for the BEE Award by a Saint Joseph Mount Sterling colleague.
"When we have very ill patients with difficulty breathing, Maria will stay close by to ensure we have her in the case of an emergency," said Maria's colleague. "She will help you move patients in their beds when needed, and her attitude with patients and their families is very warm, comforting and professional. I had a patient one night who needed rapid response, and while we were so busy trying to stabilize him, Maria stood at the bedside for over an hour helping us in any way that she could. I'm very glad to have Maria Kendrick as a part of our team."
The DAISY Award winners receive a certificate, DAISY Award pin and a hand-carved stone sculpture. The BEE Award winners are honored with a certificate and a BEE Award pin.
About CHI Saint Joseph Health
CHI Saint Joseph Health, part of CommonSpirit Health, is one of the largest and most comprehensive health systems in the Commonwealth of Kentucky with 100 locations in 20 counties, including hospitals, physician groups, clinics, primary care centers, specialty institutes and home health agencies. In total, the health system serves patients in 35 counties statewide. CHI Saint Joseph Health is dedicated to providing a wide array of services toward a goal of building a healthier future for all. CHI Saint Joseph Health embodies a strong mission and faith-based heritage and works through local partnerships to expand access to care in the communities it serves.
About Saint Joseph Mount Sterling
Saint Joseph Mount Sterling is a 42-bed community hospital located in Mount Sterling, KY. Established in 1918, the facility serves residents of Montgomery, Bath, Menifee, Powell and Rowan counties. An investment of $60 million opened the current facility in 2011.
###