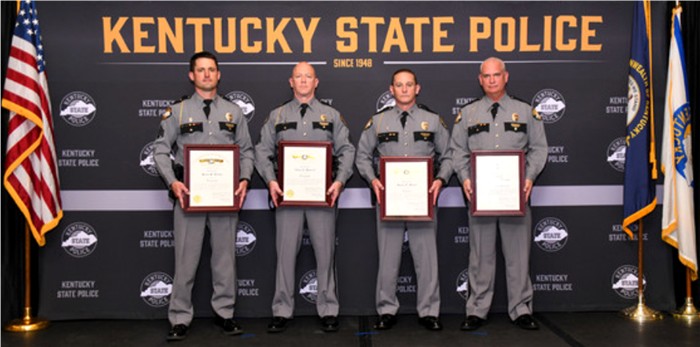 Pictured left to right is Sgt. Jason Denny, Sgt. Larry N. Dales, Cpt. Roger "Chris" Short, Lt. Col. Michael C. Rogers, Sgt. Kyle B. Reams (not pictured)
RICHMOND, KY – On October 27, Lt. Gov. Jacqueline Coleman joined Kentucky State Police (KSP) to recognize the promotion of 26 troopers and officers who were promoted since May 1, 2021 including one lieutenant colonel, one major, four captains, four lieutenants and 16 sergeants were commissioned with a mission of creating a better Kentucky through public safety efforts and service to all Kentuckians.
During the ceremony, KSP Commissioner Phillip Burnett, Jr. challenged troopers and officers to strive for excellence. "It's an incredible responsibility. You've earned it, but now you have to keep earning it, each and every day. I have every confidence that you will do just that, never allowing anything to tarnish the accomplishments you have worked so hard to achieve."
Post 7 area promotions include:
Major Michael C. Rogers was promoted to:
Lieutenant Colonel and is assigned to the Office of Operations
Lieutenant Roger C. Short was promoted to:
Captain and is assigned to Drug Enforcement Special Investigations (DESI) East
Trooper Kyle B. Reams was promoted to:
Sergeant and is assigned to Post 7 Richmond
Trooper Jason Denny was promoted to:
Sergeant and is assigned to Special Operations
Trooper Larry N. Dales was promoted to:
Sergeant and is assigned to the Executive Security Branch
KSP Post 7 Captain Jeremy Hamm welcomes Sergeant Reams to Post 7. "We are excited to have Sergeant Reams join our Post in Richmond. He brings several years of experience with him and we look forward to continuing to serve our communities within the post district.
A complete listing of all the officers who promoted can be found here.
The mission of KSP is to promote public safety through service, integrity and professionalism using partnerships to prevent, reduce and deter crime and the fear of crime, enhance highway safety through education and enforcement, safeguard property and protect individual rights.
# # #