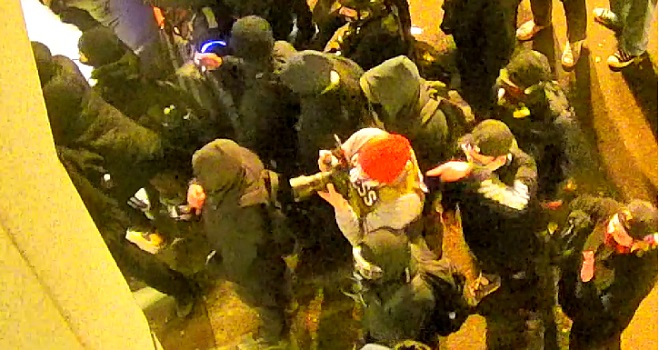 PORTLAND, OR - The Multnomah County Sheriff's Office is reporting that: Around 8:45 P.M., Friday, November 19, demonstrators attending a protest in Downtown Portland focused their attention on one of the vehicle roll-up gates at the Justice Center on SW 2nd Avenue.
At the time, a couple dozen people gathered in front of the gate. Some individuals in the crowd were heard saying "burn it down," referring to the Justice Center.
Individuals were observed tampering with the gate prior to its opening. An estimated 10 to 20 protesters entered and began moving down the ramp in the direction of the jail entrance and the building's critical infrastructure. Individuals also placed large tree branches to prevent the gate from closing.
Deputies met the trespassers on the ramp to prevent entry and began instructing them to exit. The crowd, which was described as hostile, launched urine, alcoholic beverages, water bottles and batteries at deputies during the event.
Because a large group of people were engaging in tumultuous and violent conduct, and further entry into the building would have posed significant implications and grave risk of causing public alarm, the Multnomah County Sheriff's Office (MCSO) declared a riot.
MCSO directed the Portland Police Bureau (PPB) incident command to communicate the riot declaration and force warnings to the demonstrators using the mobile Sound Truck. PPB issued the declarations and force warnings several times.
Even as deputies instructed people to leave, deputies continued to take projectiles and were subjected to hostile behavior.
Demonstrators then stood at the garage exit, repeatedly preventing the gate from closing by pushing on it. Again, deputies asked the crowd to step away. Demonstrators ignored the repeated requests and continued blocking the gate.
Deputies swiftly moved toward the demonstrators that were preventing the gate from closing to allow space for the gate to close properly. Deputies retreated inside and eventually were able to re-secure the gate.
No arrests were made.
We are aware video exists of the event, which we are reviewing.
Individuals who would like to share any video or photos with us can contact us by sending an email to .
###