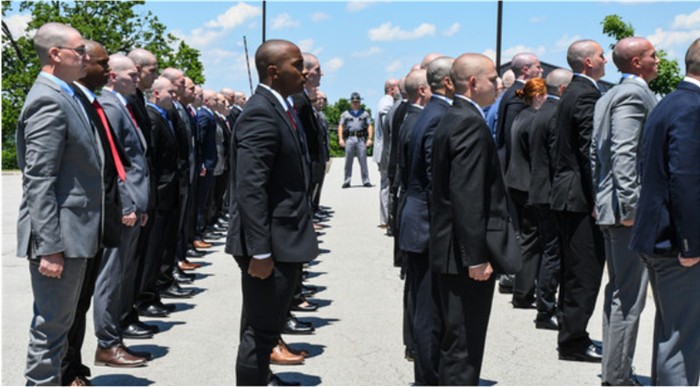 Recruits embark on twenty-four weeks of intense training to serve and protect all Kentuckians
FRANKFORT, KY (June 7, 2022) – Today, Gov. Andy Beshear and the Kentucky State Police (KSP) announced that sixty-five new cadets reported to Frankfort on Sunday to begin their twenty-four weeks of intense training to one day serve and protect the Commonwealth of Kentucky as troopers. The new recruits include 57 traditional and 8 LEAP (law enforcement accelerated program) cadets.
"My administration's top priority is to protect our Kentucky families and communities, which is why we must boldly invest in our law enforcement," said Gov. Beshear. "On behalf of the commonwealth, thank you to these 65 men and women who have chosen to wear the badge of honor to create a better safer Kentucky for all."
KSP Commissioner Phillip Burnett, Jr. said the next twenty-four weeks will be focused on training that promotes public safety through service, integrity and professionalism using partnerships to prevent, reduce and deter crime and the fear of crime, enhance highway safety through education and enforcement, and safeguard property and protect individual rights. "You will be challenged both mentally and physically, but throughout it all you will prepare for something greater – the selfless act of service to the commonwealth. Being a trooper is a difficult undertaking, many times perilous, and at all times demanding. It is not a job; it is a way of life."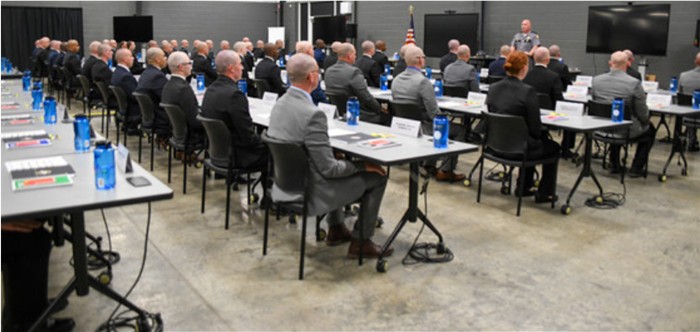 Traditional cadet classes include twenty-four weeks of basic training with more than 1,000 hours of classroom and field study in subjects such as constitutional law, juvenile and traffic law, use of force, weapons training, first aid, high speed vehicle pursuit, criminal investigation, computer literacy, hostage negotiations, evidence collection, radio procedures, search and seizure, crash investigation, drug identification, crowd control, armed robbery response, land navigation, electronic crimes, sex crimes, hate crimes, domestic violence, bomb threats, hazardous materials, implicit bias, race relations and social intelligence. LEAP class candidates attend the academy with at minimum two years of law enforcement experience and undergo an accelerated thirteen-week academy.
"All of you are connected to us for the rest of your career," said KSP Academy Commander Captain Shawn Darby. "When you become a trooper, you become one of us. Knowing that, we will give you one hundred percent every single day. You as a cadet must put in that same effort because nothing at this academy is given; it is earned."
Justice and Public Safety Cabinet Secretary Kerry Harvey reiterated the importance of the wide range of training that cadets will receive before taking their place on the force.
"KSP is made up of some of the best law enforcement officers in the state," Secretary Harvey said. "This is in no small part due to the training program at the KSP Training Academy. The intensity and scope of which cadets are trained ensures our troopers are prepared for any situation that could arise."
The number one priority for KSP this year remains focused on creating a better Kentucky by making the commonwealth's streets safer, communities stronger and the nation more secure by providing exceptional law enforcement made up of a diverse workforce. The agency's recruiting efforts include the addition of minority troopers in the recruitment branch and a marketing initiative using micro-targeting to reach individuals from Kentucky's 120 counties. The innovative digital ads were launched in unique venues, such as college universities, outdoor billboards in rural communities, social media and streaming television platforms.
Individuals interested in becoming a trooper, please visit www.JoinKSP.com.
In March, Gov. Besher and Commissioner Burnett announced that 71 cadets from Cadet Class 101 graduated the agency's basic training academy and were ready to report for duty across the commonwealth with a focus on creating a better and safer Kentucky. Cadet Class 101 was the largest KSP basic training academy graduating class since 2014.
Beshear-Coleman Administration's Commitment to Enhancing Public Safety throughout the Commonwealth
In April, the Governor signed into law two pieces of legislation recently passed by the General Assembly to make historic investments in law enforcement by providing funds to KSP to recruit, train and retain the essential workforce needed to continue to provide the highest level of security to all Kentuckians.
House Bill 259 ensures that all troopers will receive a $15,000 raise. Additionally, KSP's starting pay for sworn officers will increase from $40,000 to $55,000 annually. This bill also includes a unique contribution enhancement for members of the State Police Retirement System Tier III plan, which will have an immediate impact on veteran troopers, the 71 recent graduates of the KSP Training Academy and new recruits who are preparing to report for training in June. Lastly, it establishes enhanced promotion pay for trooper and Commercial Vehicle Enforcement (CVE) officer supervisor ranks.
By signing Senate Bill 209, Gov. Beshear established paid vacation, sick leave and holiday pay, as well as enhanced health insurance contribution payments for retired KSP troopers and CVE officers.
Also, as the Governor recommended in January 2022, $12.2 million was included in the state budget for KSP to purchase an integrated video recording system, which is the first time in the commonwealth's history that funding has been allocated for this much-needed expense. Additionally, the recently passed state budget increases the annual training stipend for sworn officers across the state by $300 — raising the annual training incentive from $4,000 to $4,300 upon completion of 40 hours of certified law enforcement training. This increase will support more than 7,600 officers annually, ensuring Kentucky's law enforcement are both safe and effective while making our communities safer.
In addition to the annual training stipend increase, Gov. Beshear signed House Bill 137, which expanded the definition of police to include joint task force members, county attorney detectives, process servers for juvenile courts, local alcoholic beverage control investigators, and commonwealth attorney's detectives. By including these positions within the definition of police officer, their employing agencies are now able to participate in the Kentucky Law Enforcement Foundation Program Fund.
Additionally, the Governor has championed legislation action like Senate Bill 64 and House Bill 254, making it easier for law enforcement to conduct undercover stings and increase the chances of stopping a horrific crime against a child from being facilitated through the internet, while also providing law enforcement officers with the authority to charge offenders with harsher crimes to keep them away from the public, preventing further interactions with Kentucky's most vulnerable population.
# # #