Funds raised will benefit local cancer patients and their families
MOUNT STERLING, KY (July 1, 2022) – The CHI Saint Joseph Health Foundations' statewide "Evening of Hope" fundraising event has raised more than $260,000 on Saturday, June 18, with more gifts continuing to be made. Proceeds from the event will benefit CHI Saint Joseph Health cancer patients and their families. For the second consecutive year, the fundraising event was held in place of in-person galas and other fundraising events. The event included Kentuckians across the state – including in Mount Sterling – hosting a dinner party fundraiser, which featured a virtual silent auction, a mission moment and inspiring stories of hope.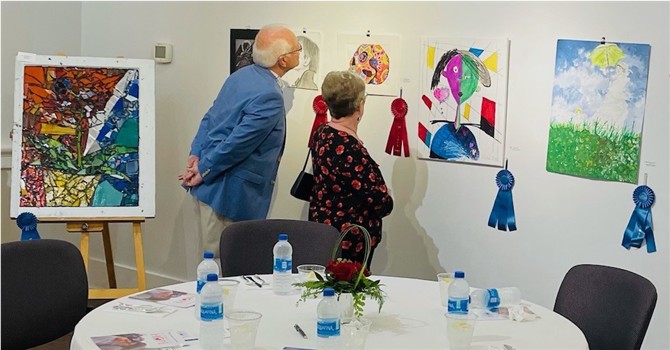 "We are incredibly thankful to be supported by so many kind and thoughtful communities," said Leslie Smart, president, CHI Saint Joseph Health Foundations. "The funds raised from Evening of Hope will help relieve some of the financial burdens of families battling cancer. This mission would not be possible without our hosts, generous sponsors and charitable community members who donated or bid on our silent auction items."
CHI Saint Joseph Health – Cancer Care each year sees more than 74,000 patients across the state in Bardstown, Corbin, Lexington, London and Mount Sterling. In 2021, the health system expanded its affiliation with the Cleveland Clinic Cancer Center – rated one of the nation's top five cancer programs by U.S. News & World Report – to Bardstown, Corbin, London and Mount Sterling; the affiliation was launched in Lexington in 2019. This affiliation enhances CHI Saint Joseph Health's cancer care services, providing patients with access to highly specialized care, world-renowned oncologists, and state-of-the-art technology closer to home.
As part of the Evening of Hope, dinner party hosts and attendees heard stories of hope and the impact CHI Saint Joseph Health – Cancer Care has had on local patients. The Evening of Hope auction featured a collection of premier packages and items like weeklong vacations, the Ultimate Maker's Mark Experience, specialty bourbon baskets, a War Front halter owned by legendary stallion Danzig, and more. The silent auction raised nearly $70,000 toward that current total amount, more than 11 percent more than last year and the best-performing silent auction for the Foundations.
In 2021, there were approximately 30,000 new cancer cases and more than 10,000 cancer deaths in Kentucky, which is the highest rate of cancer deaths in the nation. Support from Evening of Hope will directly benefit patients treated for cancer across all the CHI Saint Joseph Health facilities, providing them with resources and assistance as they undergo treatment.
Sponsors for Evening of Hope included CHI Saint Joseph Medical Group; Allied Communications, Inc.; Barbara Lyons; Bardstown Bourbon Company; Beam Suntory; Boone's Butcher Shop; Central Kentucky Radiology, PLLC; Christy and Sidney Lansdale; Community Trust Bank; Congleton-Hacker Company; Continuing Care Hospital; Conway Heaton; Craig Loftis State Farm; Davis H. Elliot Co.; Dennison Tombras; Dr. Magdalene Karon and Dr. John Stewart; Elaine and Thom Hathaway; Fifth Third Bank; Flaget Memorial Hospital; Flaget Memorial Hospital Medical Staff; Health Choice Enterprises, LLC; Heaven Hill Distillery; Heritage Wine and Spirits; Hillenmeyer; Hometown Bank; Ivey Mechanical, Co. LLC; Jackson Energy Cooperative; Janie and Larry Cowgill; Kentucky Hospital Association; Lakes Funeral Home and Cremation Services; Leslie and John Smart; Lexington Clinic Foundation; McCarthy Strategic Solutions; MD Update; NexCore Group; Nila and John Crouch; Pathology & Cytology Laboratories, Inc.; Provations Group; Plumbers & Steamfitters Local 452; Realm Construction; Rebecca and Tony Houston; Robin and Jack B. Carrington, II; Ross Melton; Ruggles Sign; Saint Joseph Berea; Saint Joseph London; Saint Joseph Mount Sterling; Springfield State Bank; Stengel Hill Architecture; Team Three Group Limited, LLC; Tri-State Roofing and Sheet Metal; University of the Cumberlands; and Varlene A. and Charles R. Stokes.
For more information about Evening of Hope, visit https://www.chisaintjosephhealth.org/chi-saint-joseph-health/ways-to-help/eveningofhope.
About CHI Saint Joseph Health
CHI Saint Joseph Health, part of CommonSpirit Health, is one of the largest and most comprehensive health systems in the Commonwealth of Kentucky with 100 locations in 20 counties, including hospitals, physician groups, clinics, primary care centers, specialty institutes, home health agencies and an ambulatory Care Center. The hospitals in CHI Saint Joseph Health are Flaget Memorial Hospital, Saint Joseph Berea, Saint Joseph East, Saint Joseph Hospital, Saint Joseph Jessamine, Saint Joseph London, Saint Joseph Mount Sterling, and Women's Hospital at Saint Joseph East. In total, the health system serves patients in 35 counties statewide. CHI Saint Joseph Health is dedicated to providing a wide array of services toward a goal of building a healthier future for all. CHI Saint Joseph Health embodies a strong mission and faith-based heritage and works through local partnerships to expand access to care in the communities it serves.
About Saint Joseph Mount Sterling Foundation
Saint Joseph Hospital Mount Sterling Foundation supports CHI Saint Joseph Health's drive for excellence by inspiring donors to make a tangible difference through their philanthropic investment in outstanding patient care facilities and services, the education of caregivers, advanced clinical research and improved access to quality medical care.
###