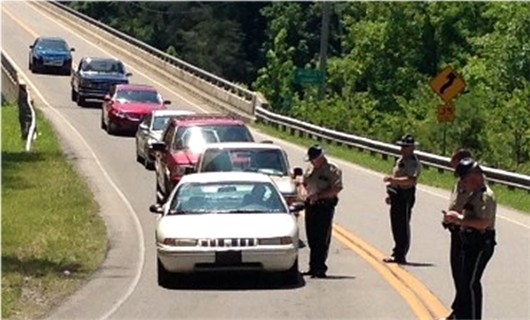 Laurel  County, KY- Laurel County Sheriff John Root reports that he and his deputies support the "Click it or Ticket " campaign designed to help save lives, and prevent serious injury in traffic crashes. This past week, and especially this Memorial Day Weekend, Laurel County Sheriff's Deputies have been out in full force patrolling Laurel County roads, and also conducting Traffic Safety Checkpoints all over Laurel County in an attempt to make the roads safer for people and their families.
Last year in Kentucky, over half (62.5 percent) of the motorists killed were not buckled up.
Anyone can be involved in a crash at any time. So please, always buckle up, and always make sure your friends and family do the same.
Although this huge law enforcement presence can be intimidating, the Click It or Ticket campaign is not about writing tickets … It's about increased awareness and saving lives.
The Laurel County Sheriff's Office joins our partners in Laurel County, and in our surrounding counties, in working together for this annual Click It or Ticket seat belt enforcement mobilization from May 20 through June 2, 2013 (which includes Memorial Day weekend).--Together we are making a difference!
Pictured are Laurel County Sheriff's Deputies conducting a "Traffic Safety Checkpoint" on Ky 312 in southern Laurel County on Memorial day (5-27-13). Pictured are: Lt. Chuck Johnson, Senior Sgt. Greg Poynter, Deputy James Sizemore, Deputy John Inman, Deputy Larry Parrott, Deputy Shane Rice, Deputy Milton Storm and Deputy Gilbert Acciardo.