(FRANKFORT, KY) – KSP launched a statewide Active Shooter Training Program (ASTP) as part of a Safe School Initiative developed by the agency for the purpose of heightening security practices for maximum school safety.  The KSP, with input from school administrators across the state, has developed a program aimed at assisting Kentucky schools on how to respond effectively during an active shooter incident.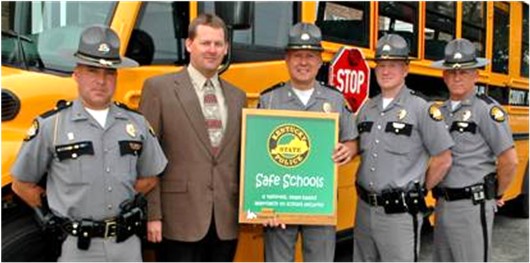 From (L to R) KSP Lt. Brent White, BCMS Principal Kevin Estes, Commissioner Rodney Brewer, Capt. James Stephens, and Maj. Merrell Harrison. (Photo by KSP, Les Williams)
This program is designed to provide four levels of assistance to aid school officials in establishing or complimenting their current emergency management response plans.  These levels include, on-site visits, target hardening, lock down drills and hands-on role-playing scenarios that simulate an active shooter incident within a school setting.
Rodney Brewer, commissioner for KSP, created a Safe Schools Committee shortly after the Sandy Hook School shooting in December of 2012.
"I don't think anyone will forget December 14, 2012 when twenty innocent children, under the age of seven, were killed in the Sandy Hook Elementary School shooting," says Brewer.  "This tragic incident, accompanied by several others, has created a national conversation about the importance of safety in our schools."
"We must help equip our school personnel with the additional tools, resources, and training needed to handle an active shooter incident.  This training must include how to detect early warning signs that could possibly stop an incident before it becomes active," adds Brewer.
The KSP ASTP is offered at no charge to schools and the level of training is at the discretion of school officials. A pilot program began this summer as KSP provided the training program at test school sites in western Kentucky. The training was well received by school officials and staff.
Ballard County Middle School principal, Kevin Estes was one of the participants in the KSP ASTP pilot project. "While we hope and pray that we are never faced with such a situation, the skills and mindset developed through this training will be invaluable in the event of a real emergency," says Keel.    "The scenarios provided a realistic glimpse into the feelings that will be felt and the actions that must be taken if an active shooter incident happens at our school."
KSP had many partners in developing the program to include: superintendants, principals, teachers and school resource officers.  Another important partner was the Kentucky Center for Safe Schools (KCSS).
Jon Akers, Executive Director for KCSS recently endorsed the program. "This is a really solid program for dealing with active shooter safety in our schools," says Akers.  "We come at this during a time in our country when we still have school shootings taking place.  It is important to have a program like this to build on current safety programs already in place.  This KSP program merits the thought and consideration of school administrators to bring in as part of a professional development training curriculum."
School administrators will receive a letter from KSP this week detailing the ASTP with a video invitation from Commissioner Brewer. 
Schools who are interested in the program can contact their local post or receive more information on the KSP website at www.kentuckystatepolice.org.