(FRANKFORT, KY) – KSP initiated 'Operation Black Friday' Nov. 1, 2013 utilizing every available sworn unit within the agency to arrest 479 individuals in what was the largest one-day drug round-up in agency history.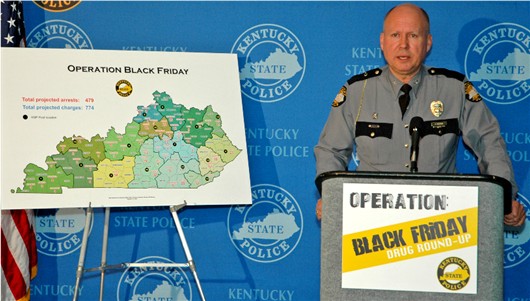 Commissioner Brewer launching 'Operation Black Friday.' Photo courtesy of KSP Public Information Officer, Les Williams.
All KSP Posts, the KSP Drug Enforcement Special Investigations (DESI) Branch, Commercial Vehicle Enforcement Division, along with assistance from local law enforcement, ATF, DEA and U.S. Marshalls Service began arresting individuals before daybreak.
KSP reports that 479 targets were arrested resulting in 774 charges. KSP Commissioner Rodney Brewer said the operation is a direct result of law abiding citizens providing tips via phone calls, messages, letters and information to the anonymous tip lines. He referenced to an anonymous letter, a plea for help, from a mother whose son became a drug addict. She provided pertinent information that led to the arrest of the drug dealer selling to her son.
"Today, I can say to all of you who have made this same plea – we hear you. We have not forgotten about you and more importantly, we are locating these individuals and making these much needed arrests," says Brewer.
Brewer indicated that many of the arrests are what KSP terms as "low-level" offenders. These are usually people who buying drugs and generally cause disruption within the communities where they live.
"Citizens are tired of perpetual offenders who are disrupting neighborhoods and participating in other criminal mischief," adds Brewer. While many of the arrests today are low level targets, it is very probably that we will obtain information from them that will lead to arrests of more significant dealers and drug operations."
Brewer stated that most of the charges during 'Operation Black Friday' were drug-related including prescription drugs, marijuana, heroin, and methamphetamine.
"While legislation regarding pharmaceuticals (prescription drugs) has had a positive impact in Kentucky, Heroin is now an increasing problem across the state," says Brewer. "Our arrest data (from DESI Branch) is showing a 200 percent increase in heroin-related arrests since 2012."
Brewer encouraged citizens to be vigilant in reporting drug activity and suspicious behavior in their local communities.
"We provide multiple avenues for people to anonymously report information, including a toll free tip-line 1-(800) DOPE TIP and the 'Text-A-Tip'* program," says Brewer. "We have received 842 tips through the tip-line and 302 tips from the 'Text-A-Tip' program. This is a great example of successful community policing, where law enforcement partners with local citizens to remove criminals from their communities."