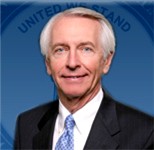 Virtual meetings link companies pursuing funding, investors statewide
FRANKFORT, Ky. – Governor Steve Beshear has announced the creation of the Kentucky Angel Investors Network (Kentucky Angels), a virtual network that links companies pursuing funding with would-be investors from across the state.
Gov. Beshear kicked off the initiative at the inaugural Kentucky Investment Summit, held last week in Frankfort.
"Experienced mentors and private investors are critical components of a thriving innovation ecosystem," said Gov. Beshear. "The Kentucky Angel Investors Network will provide the forum and vehicle for private investors to come together, to demonstrate our support for entrepreneurs across the Commonwealth and to invest in Kentucky's future."
Kentucky Angels will bring new ventures and accredited investors together via monthly online meetings, providing investors access to early-stage deal flow on a statewide basis. Membership is open to investors within the state and other investors passionate about investing in the Commonwealth. The first online meeting is planned for January 2014.
"Nationwide, more than 70 percent of early-stage capital received by entrepreneurs comes from investors in the same state," said Phoebe Wood, a business executive and an active angel investor. "We need to build a robust, statewide ecosystem by supporting our entrepreneurs with strong business plans and teams, and by syndicating deals among our communities."
Initial implementation of Kentucky Angels is led by the Cabinet for Economic Development's Office of Entrepreneurship, the Lexington office of the Kentucky Innovation Network, and the Von Allmen Center for Entrepreneurship at the University of Kentucky's Gatton College of Business and Economics.
"By increasing the exposure between investors and entrepreneurs, we can provide opportunities to invest in Kentucky's companies of tomorrow, provide growth capital to entrepreneurs and allow new angel investors access to deals that have been screened and have already generated interest from other investors," said Cabinet for Economic Development Secretary Larry Hayes. "The Kentucky Angel Investors Network will support and grow the entrepreneurial and creative communities in their immediate areas and throughout the state. The cabinet is proud to support this initiative."
"Monthly online presentations will feature entrepreneurs who already have a lead investor and negotiated term sheet," said Dean Harvey, executive director of the Von Allmen Center for Entrepreneurship. "This approach will help simplify due diligence for other investors and foster communication among investors and entrepreneurs on a statewide basis."
Earlier this year, Gov. Beshear announced the creation of the Office of Entrepreneurship within the Cabinet for Economic Development with a goal of streamlining the state's focus and efforts to create and promote a strong culture of entrepreneurship. The office oversees the Kentucky Innovation Network, the Kentucky Export Initiative, as well as an array of other services, programs and initiatives to encourage small business growth.
More information on Kentucky Angels is available at www.KYAngels.net
Information on Kentucky's economic development efforts and programs is available at www.ThinkKentucky.com. Fans of the Cabinet for Economic Development can also join the discussion on Facebook at www.Facebook.com/ThinkKentucky or follow on Twitter at www.Twitter.com/ThinkKentucky.