Eddie Price, the Hancock County Kentucky author of "Widder's Landing," recently won the Gold Medal for "Best Historical Fiction" in the 2013 Readers Favorite Awards in Miami, Florida.
The awards were held in conjunction with the International Book Fair held in downtown Miami and which featured authors from all over the world.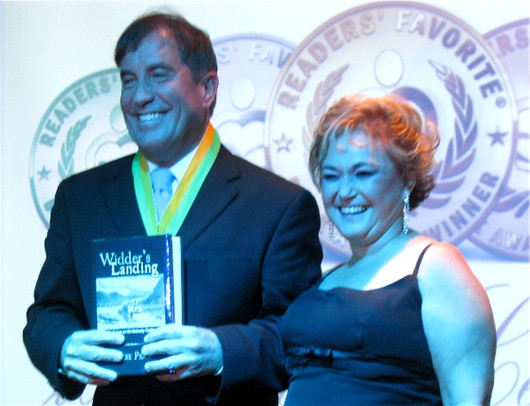 Eddie Price receiving the Gold Medal for Best Historical Fiction from Debra Gaynor, CEO and Founder of Readers Favorite.
"Widder's Landing," a novel set in western Kentucky along the Ohio River in 1811-1815, beat out one British, one Canadian, and three American finalists. Readers Favorite is an international book review organization comprised of reviewers all over the United States and the world. For example, one of Price's reviewers came from southern France. The reviewers write a book review and then rate the book in the same way as Amazon, Goodreads, and other organizations do. These ratings and reviews are then compiled and tabulated before the awards are decided.
Readers Favorite also contracted Price to present a workshop to over 110 self-published and traditionally published writers on how he markets his novel to the public. The organizers also contracted him to work the Readers Favorite booth and to emcee the awards which were televised in southern Florida. Price presented his program alongside Dete Meserve, President of Wind Dancer Films; Leigh Cunningham, President of AIA: the Association of Independent Authors; and Mark Wayne Adams from Dawson Springs, Kentucky, a Disney cartoonist and children's book author.
The Readers Favorite Gold Medal is not the only award for "Widder's Landing." The US Daughters of 1812 gave Price the national "Spirit of 1812 Award" during his presentation in Monroe, Michigan in January 2013. The novel has garnered 5-star reviews on Amazon.com and has won recognition from Kentucky Governor Steve Beshear and the Kentucky Senate and House. It has been endorsed by the Kentucky Humanities Council, the Kentucky Historical Society, and the Kentucky Bicentennial Commission on the War of 1812. Even former US President Bill Clinton picked up a copy from the Owensboro Museum of Science and History on his visit to Owensboro, Kentucky. Most recently, a book review appeared in the Louisville Courier Journal and the novel passed a strenuous evaluation by the Jean Lafitte National Park in the New Orleans, Louisiana. The book will be available through Eastern National US Parks System and placed in Chalmette Battlefield National Park, and the French Quarter in New Orleans. "Widder's Landing" culminates in the Battle of New Orleans and has won praise from John Trowbridge, Command Historian of the Kentucky National Guard.
Price is currently working on a sequel to "Widder's Landing," which will cover the years 1815-1821. He also travels to communities all over Kentucky (and beyond) to present his program: "Remember the Raisin," to high schools, colleges and universities; historical and genealogical societies, museums, libraries, and arts councils; historical reenactments, pioneer villages, and state parks--and many other venues. He is a Kentucky Humanities Speakers Bureau presenter and brings along a colorful powerpoint slide program with period music. Price garbs himself in authentic costume and involves the audience with questions, fun quizzes, and singing.
"Widder's Landing" is available at: http://www.amazon.com/; http://www.acclaimpress.com/,http://www.barnesandnoble.com/; and http://www.booksamillion.com/.
Price can be contacted through the Kentucky Humanities Speakers Bureau for a presentation. His author facebook page can be found at: www.facebook.com/eddieprice.1954