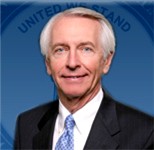 Will create four-lane parkway from Winchester to Pikeville
FRANKFORT, Ky. – Governor Steve Beshear has released his proposal for accomplishing a project long-awaited by Eastern Kentuckians and given new urgency by shifts in the region's economy – the widening, modernizing and extension of the Mountain Parkway.
"Eastern Kentucky faces a multitude of challenges, made all the more urgent by the rapidly shifting economy. Our people demand a thorough strategy that incorporates efforts to improve economic development and infrastructure for this region," Gov. Beshear said in a news conference at the Capitol. "Four-laning the remainder of the Mountain Parkway and extending it is a critical step in that process."
To accomplish that, the new Kentucky Highway Plan that Gov. Beshear will recommend to the 2014 General Assembly includes a series of projects, totaling $753.6 million, by which the Mountain Parkway would be widened and thoroughly modernized by 2020.
The Mountain Parkway, built more than 50 years ago, runs west to east for 75.6 miles, from Interstate 64 near Winchester to Salyersville. Like Kentucky's other seven parkways and the former Kentucky Turnpike, it originally was a toll road.
The westernmost 45.8 miles of the Mountain Parkway, from Winchester to Campton, has long been four lanes. But the remainder, a 29.8-mile section that runs through Wolfe, Morgan and Magoffin counties, is two lanes, with an occasional passing lane. The Governor's plan would make that section – from Campton to Salyersville – a four-lane highway.
It would then extend the Parkway from Salyersville to Prestonsburg by four-laning 16.2 miles of two connecting routes – U.S. 460 and Ky. 114. At Prestonsburg, the new Parkway would connect with four-lane U.S. 23 – creating a modern, four-lane corridor all the way from I-64 near Winchester to Pikeville.
"As its name implies, the Mountain Parkway has been the principal connector between our eastern mountains and Bluegrass region for generations. It's time Eastern Kentucky was provided the same, basic, four-lane access afforded to other regions of the Commonwealth," Gov. Beshear said. "Not only does that provide access for Eastern Kentuckians to reach other parts of our state, but it creates an easier path for tourists and investors to stream into this vibrant region."
To finance the Mountain Parkway projects, the Recommended Highway Plan proposes to use $595.6 million of conventional state and federal highway funds over the next six years and $158 million from the sale of toll revenue bonds. Although a tolling plan has not yet been devised, it is expected that tolls would be collected on the entire parkway, from Winchester to Prestonsburg.
The authorization to issue the bonds and collect the tolls will not be sought this legislative session – although part of the overall project, they would not be needed until toward the end of the entire project, Gov. Beshear said.
"Setting a concrete schedule to four-lane the Mountain Parkway would be the most far-reaching thing the General Assembly and Governor Beshear could do for Eastern Kentucky this legislative session. It's time has come, and I want to thank Governor Beshear not only for his support of this project but also for his dedicated efforts in other areas to help this region prosper," said House Speaker Greg Stumbo.
The work on the Mountain Parkway being proposed by Gov. Beshear would likely be broken down into four parts for the purposes of contracts:
Construction Sequence 1 – Mountain Parkway from KY 205 in Morgan County to Burning Fork Bridge near Salyersville, in Magoffin County.
Construction Sequence 2 – U.S. 460 from Burning Fork Bridge at Salyersville, through a congested retail district, to KY 114.
Construction Sequence 3 – KY 114 from U.S. 460 at Salyersville to KY 404 at Prestonsburg.
Construction Sequence 4 – Westernmost part of the project area: Mountain Parkway from KY 191, Wolfe County, to KY 205, Morgan County.