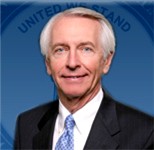 Trip set for May 11-16 to Kentucky's third largest export destination; businesses encouraged to register now
FRANKFORT, Ky.– Governor Steve Beshear has announced he will lead a Kentucky Export Initiative (KEI) trade mission to the United Kingdom.
The trade mission is set for May 11-16 and will focus on increasing commerce, promoting travel and tourism, and building business relationships between Kentucky and the United Kingdom. The KEI delegation will make stops in London and Manchester.
"We do a tremendous amount of business with the UK, exporting more than a billion dollars in products and services a year, but there is plenty of room to grow," said Gov. Beshear. "This trade mission will give Kentucky businesses the opportunity to have one-on-one meetings, build relationships to increase sales and explore one of Europe's most established markets."
The United Kingdom has the sixth-largest economy in the world, and with few trade barriers, it is a popular entry market into the European Union. Kentucky exported more than $1.6 billion in products and services to the United Kingdom last year, a more than 20 percent increase from 2012. Top exports include aerospace and pharmaceuticals products.
Kentucky exports to the United Kingdom have played a key role in boosting the Commonwealth's economy. In the first 11 months of 2013, Kentucky's exports of products and services to the United Kingdom generated $839 million for Kentucky's GDP, supported more than 10,000 jobs in the Commonwealth, and created $69 million in state and local taxes for Kentucky.
Kentucky tourism officials will participate in the trip and visit media, tour operators and others to discuss tourism opportunities in Kentucky. Tourism has a $12.2 billion annual economic impact in Kentucky.
The trip follows another record export year for Kentucky in 2013. Exports of Kentucky-made products and services during the first 11 months of 2013 totalled a record $23 billion. Kentucky exports to approximately 199 nations, and the United Kingdom consistently comes in as the third largest destination for Kentucky products and services behind only Canada and Mexico.
The visit will be KEI's second trade and investment mission. Gov. Beshear led a delegation to Canada in June 2013.
Gov. Beshear created the KEI to bring together agencies and organizations to help facilitate international trade opportunities for Kentucky businesses. Comprised of government entities, business organizations and trade experts, the KEI partnership includes the Cabinet for Economic Development; Tourism, Arts and Heritage Cabinet; Kentucky Association of Manufacturers; World Trade Center Kentucky; Kentucky Association for Economic Development; the Kentucky Chamber of Commerce; U.S. Commercial Service; Kentucky Small Business Development Center; Bluegrass Economic Advancement Movement; Northern Kentucky International Trade Association; Commerce Lexington; Greater Louisville Inc. and the Bowling Green Area Chamber of Commerce.
Companies interested in participating in the trade mission are encouraged to act quickly due to limited spacing. For more information and to register, visit www.kyexports.com.
Some companies may be eligible for grant assistance for business and export development services through the Bluegrass Economic Advancement Movement's (BEAM) Kentucky Export Promotion program. More information on this program can be found at http://www.louisvilleky.gov/beam.
"The trade mission is a great opportunity for participants to take advantage of networking opportunities with government and industry leaders," said Larry Hayes, secretary of the Cabinet for Economic Development.
"Kentucky has the potential to reap increasingly significant economic benefits from international visitors, and the UK continues to be a top target market," said Bob Stewart, secretary of the Tourism, Arts and Heritage Cabinet. "Bourbon, horses and the great outdoors are especially appealing to this market of potential travelers, many of whom are well versed with the United States but are looking beyond the usual destinations they have been to in the past. The timing is perfect for us to see an increase in international visitors, especially from the UK."
Information on Kentucky's economic development efforts and programs is available at www.ThinkKentucky.com. Fans of the Cabinet for Economic Development can also join the discussion on Facebook at www.Facebook.com/ThinkKentucky or follow on Twitter at www.Twitter.com/ThinkKentucky.