Madisonville post telecommunicator makes a difference in barricade incident.
(Richmond, KY) -- During the third week of April, Kentucky State Police telecommunications personnel at Post 7 in Richmond, KY will join more than 200,000 fellow communicators throughout the United States being recognized for their long hours and dedication to public safety.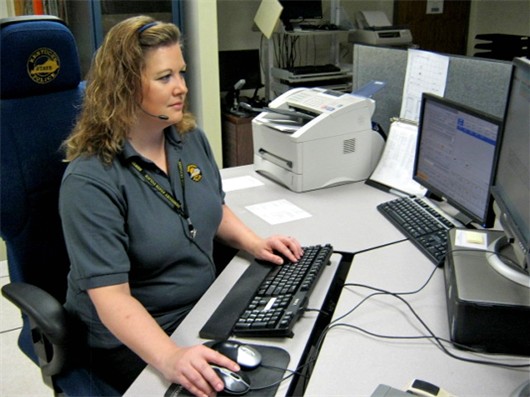 Kentucky State Police Madisonville Post Telecommunicator Miria Thomas, a 15-year veteran of the agency, received a Police Telecommunications Support Award for her actions during the incident described in this article. A resident of Earlington, Ky., she is the daughter of the late Raymond Ellis Howard, of Earlington, and Yevonna Qualls, of Slaughters, Ky.
Often called "the unsung heroes of public safety" or the "first" first responders, since they are usually the first to receive requests for emergency services from the public, they play a vital role in the successful delivery of public safety services to those in need. Every day, Kentucky residents depend on the skill, expertise and commitment of these special men and women.
In addition to receiving calls for emergency service from the public, they gather information about the situation and alert troopers to respond. They are also a lifeline for troopers and CVE officers in the field, providing a constant link to resources that can often be the difference between life and death. These duties include dealing with highly emotional callers and notifying the proper agencies, calling wrecker services, notifying channels of administration, running license plate and drivers license numbers, running criminal histories, notifying family members while continuing to answer new calls and handling other radio traffic.
"Our telecommunicators are more than just a voice on the other end of the line," says KSP Commissioner Rodney Brewer. "They work on the front lines of public safety and the services they provide cannot be measured in dollars for life is priceless. Their work often saves lives on a daily basis. It is fitting that we take this time to recognize their many contributions to the mission of the Kentucky State Police and to the citizens of the Commonwealth."
KSP employs 163 telecommunicators at its 16 posts throughout the state. In 2013, they handled 529,179 calls. Post 7 in Richmond has 10 telecommunicators on staff who handle calls from an 11-county area. Last year, they received and dispatched 20,041 calls for service.
The Post 7 telecommunications team includes: Charles Broaddus of Richmond; Connie Taylor of Mount Vernon; Nehemiah Wilkinson of Stanford; Jennifer McCracken of Berea; Darrell Melton of Berea; Dana Murphy of Irvine; Bobby Greene of Richmond; Bethany Casey of Lancaster; Dewey Burchfield of Richmond; and Daniel Castle of Richmond.