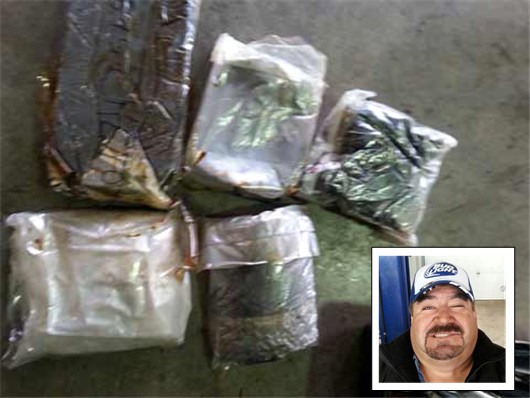 ISP Troopers Discover Over 5 ½ Kilos in a Hidden Vehicle Compartment
Madison County- Illinois State Police (ISP) officials have applauded the outstanding police work by several District 11 troopers following the seizure of over 5 ½ kilos of heroin during a traffic stop. Troopers discovered the narcotics hidden in an engine compartment specifically designed to elude law enforcement. The estimated street value is between $125,000 to $250,000.
Preliminary investigative details revealed that on Friday, April 4, 2014, at approximately 10 a.m., an ISP District 11 trooper conducted a traffic stop involving a silver 1999 Dodge Durango that was traveling northbound on I-55 near milepost 7. The trooper stopped the SUV for Improper Display of License Plate. During the traffic stop, the trooper observed that the driver of the vehicle, Rodolfo Hernandez-Flores, 46, of Tijuana, Mexico, was unusually nervous. The trooper requested the assistance of a bi-lingual trooper to provide Spanish interpretation. Based on Flores' behavior and responses during the traffic stop, the troopers believed that Flores was being deceptive and may have been involved in criminal activity. The troopers requested the assistance of an ISP K-9 unit, and the canine immediately alerted to the presence of a narcotic odor emitting from Flores' vehicle.
A search of the vehicle revealed evidence that a hidden compartment existed inside the vehicle. Suspecting narcotics may be in the compartment, the troopers relocated the SUV and Flores to a safe location for further examination. A more detailed search of the vehicle revealed a hidden compartment filled with multiple vacuum sealed bags of contraband which later tested positive for the presence heroin.
"The Heroin Highways are trafficking these illegal drugs and delivering them straight into the communities across Illinois," said ISP District 11 Captain Joseph Kollins. "These troopers did an exceptional job intercepting these illicit narcotics and their training and good police instincts prevented the drugs from going any further," added Kollins.
Following the discovery of the drugs, agents from the ISP Metropolitan Enforcement Group of Southern Illinois (MEGSI) responded and assisted in the investigation. Flores later admitted he was paid to transport the Heroin, which originated in Tijuana, Mexico and was destined for Columbus, Ohio. Flores was charged with Possession with Intent to Deliver Heroin, issued a warning for his license plate infraction, and then transported to the Madison County Jail.
Pictured is the Heroin and the accused.