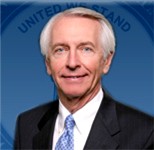 Kentucky companies seek export opportunities with Europe
FRANKFORT, Ky. – Joined by a dozen Kentucky companies, economic development and tourism officials, and several trade partners, the Kentucky Export Initiative (KEI) trade mission to the United Kingdom led by Governor Steve Beshear got underway on Sunday.
The trade mission, May 11-16, will focus on increasing commerce, promoting travel and tourism, and building business relationships between Kentucky and the United Kingdom. The KEI delegation will make stops in London and Manchester.
"Exporting is vital to our economic strength, and it's crucial that we continue to enhance those ties and create long-lasting and prosperous business relationships in the UK and around the world," said Gov. Beshear. "This trip is an opportunity to showcase that Kentucky is open for business and offers a wide variety of excellent products and services."
The UK has the sixth-largest economy in the world, and with few trade barriers, it is a popular entry market into the European Union. Bilateral trade between Kentucky and the UK topped $2.9 billion for 2013. The Commonwealth is the top state for supplying horses to the UK, and ranks among the top five in exporting aerospace products, distilled spirits, printed materials and charcoal to the country.
"As Kentucky's third-largest export destination, the market in the United Kingdom offers some great opportunities for both first-time and experienced exporters," said Greg Higdon, president and CEO of the Kentucky Association of Manufacturers. "We look forward to the results of this trade mission increasing commerce and promoting tourism."
"The Kentucky Association for Economic Development (KAED) knows the importance of partnerships in economic development, and we understand that we have to be focused on the global marketplace," said Hal Goode, KAED president and CEO. "With exporting to the UK at an all-time high, Kentucky businesses will have an opportunity on this trade mission to increase capital investment that will ultimately equal job creation."
"The role of international trade, in terms of expanding exports and attracting foreign investment in Kentucky, is absolutely critical to the future of our economy and our state's ability to create jobs," said Dave Adkisson, president and CEO of the Kentucky Chamber of Commerce. "We must explore trade opportunities aggressively and establish those contacts that can help Kentucky employers expand and create more jobs for Kentuckians."
"The trade mission will provide our clients and all Kentucky businesses with the opportunity to explore and open new business channels through exporting," said Ed Webb, president and CEO of World Trade Center Kentucky, in Lexington. "Previous missions, which include last year's visit to Canada, have resulted in participants securing new business contracts, international business partnerships and a world of opportunity."
The following Kentucky companies are participating in the trade mission:
Applied Digital Solutions—Louisville
Biomedical Development Corp—Lexington
Bluegrass Dairy—Glasgow
Interapt—Louisville
Kentucky Distillers' Association—Frankfort
Kinetic—Louisville
Lectrodryer LLC—Richmond
Mach III Clutch Inc.—Walton
Nucleus—Louisville
Oscarware Inc.—Bonnieville
Whitaker Tools—Campbellsville
The trip follows the third straight record year for Kentucky exports. Last year, the Commonwealth exported $25.3 billion products to nearly 200 nations. The United Kingdom consistently comes in as the third largest destination for Kentucky goods and services behind only Canada and Mexico.
Kentucky tourism officials also will participate in the trip and visit travel media, tour operators and others to discuss tourism opportunities in Kentucky. Tourism has a $12.5 billion annual economic impact in Kentucky.
The visit will be KEI's second trade and investment mission. Gov. Beshear led a delegation to Canada in June 2013.
For more information on the Kentucky Export Initiative and its partners, visit www.kyexports.com.
Information on Kentucky's economic development efforts and programs is available at www.ThinkKentucky.com. Fans of the Cabinet for Economic Development can also join the discussion on Facebook or follow on Twitter. Watch the Cabinet's "This is My Kentucky" video on YouTube.