As KSP continues to observe its 65th anniversary through July 1 of this year, the following article takes a look back at one trooper who played a unique, high-visibility role in the history of the agency.
(Frankfort, Ky.) -- Long before the days of email, smart phones and social media, one Kentucky State Police pioneer was blazing a trail using innovation and outside-the-box thinking to spread safety messages throughout Kentucky.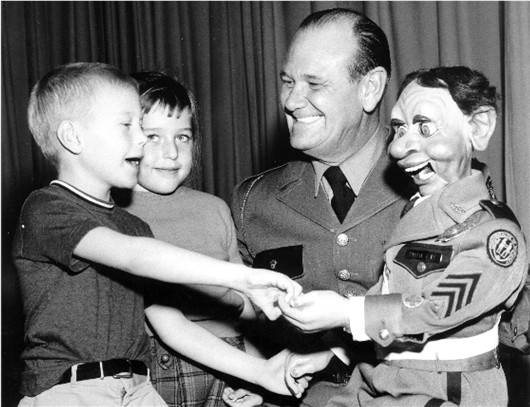 Kentucky State Police Lt. Lee Allen Estes entertained both children and adults with safety themed magic tricks and ventriloquism throughout the state during the 1940s, 50s and 60s.
As a member of the Fayette County Patrol in the 1930s, Lee Allen Estes watched children fidget and yawn during safety lectures presented by police officers. Feeling that a lesson must be "heard" to be "learned," he had an idea. He would "make the words stick by illustrating them with a trick."
A student of magic tricks, illusions and ventriloquism from an early age, Estes developed a travelling show that entertained children while presenting messages about fire, bicycle and general safety. The program was a rousing success from the start with children, schools and adults throughout the state.
Word of Estes' efforts spread and he soon joined the Kentucky Highway Patrol and later the Kentucky State Police. As a sergeant and later a lieutenant, he took the show to schools and civic organizations around the state during the 1940s, 50s and 60s.
He was no "suitcase magician" however. He traveled in a specially-built, two-ton truck that carried eight trunks full of stunts and gadgets. His equipment was valued at more than $5,600 and his hands were insured for $5,000. His 50-90 minute shows required two hours to set up and an hour to tear down. Prior to a performance, he sent a complete show script to each school with stage directions and piano sheet music. He required piano accompaniment for each show.
Putting his own spell on safety, Estes would tie each trick to a safety message. Multi-colored silk handkerchiefs would appear from nowhere. There were balloon illusions, a magic ball and yes, he pulled a rabbit out of a hat. He would tear a paper cone to bits and turn them into a lace banner bearing a "Safety First" slogan.
Estes was especially proud of his "amputation" illusion, where a subject placed their arm in a special box and the arm appeared to be severed when two steel bars were inserted through the top. He used this trick to highlight the danger of sticking one's arm outside the window of a school bus. He reinforced the message by telling the children that in 1941 one company alone manufactured 63 artificial arms for persons injured in such accidents. Assisting Estes in his shows were two pop-eyed, big-mouthed ventriloquist dummies: Willie Talk and Kenny Talk. Wearing uniforms identical to Estes,' the sassy figures had moveable eyebrows and could talk, laugh and spit. They delighted the kids by jabbering about safety and bantering back and forth with Estes. As much fun as the show was, it was also hard work. Estes practiced three to four hours a day to perfect his tricks and illusions and make sure they had both entertainment and educational value. Since the vast majority of his audiences were made up of children, he faced a constant challenge: it's difficult to get children to follow misdirection (diverting the audiences' attention is one of a magician's secrets of success). But that didn't hold Estes back. He said he would rather perform for children than adults. One testament to his skills, however, is impressive. He was once invited to present a special show to the International Brotherhood of Magicians. Once dubbed the "Houdini of the Highways" by the press, Estes passed away in 1967. Willie Talk and Kenny Talk still live on as part of the collection of the Vent Haven Museum in Ft. Mitchell, Ky., a tribute to KSP's early use of innovation and a silent reminder of a slower-paced time when live, face-to-face communication brought smiles, laughter and understanding to children and adults throughout the Commonwealth.