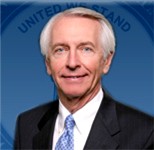 Legislation recognizes military service past, present
LEXINGTON, Ky. – Governor Steve Beshear has helped honor Kentucky veterans and recognize military training and service by ceremonially signing six bills from the recent 2014 session of the Kentucky General Assembly.
The Governor's action at Barker Hall/ Buell Armory in Lexington supports his ongoing commitment to Kentucky military personnel – both active members and veterans. Buell Armory is the home of the Army and Air Force ROTC on the University of Kentucky's campus.
"We can never repay the huge debt we owe our servicemen and women or fully express our appreciation to them," Gov. Beshear said. "With Memorial Day fast approaching, I cannot think of a better way to once again say 'thank you' by signing these bills. I ask all Kentuckians to join us in honoring our veterans, active servicemen and women, and our military personnel who made the ultimate sacrifice."
As a former member of the U.S. Army Reserve, Gov. Beshear has worked hard over the last several years to help Kentucky troops, veterans and their families deal with financial hardships, provide employment and transportation assistance, and gain deserving recognition.
"Working with our Governor, who along with the First Lady has been a tremendous supporter of the military and veterans of the Commonwealth on these bills – particularly HB 337 and HB 289, which I sponsored – and other issues, has been an honor," said Rep. Tanya Pullin, of South Shore. "As chairwoman of the House Veterans, Military Affairs and Public Safety Committee, I look forward to continuing to work with other members of the General Assembly and the Beshear Administration to address the needs of both the active duty military and veterans and ensure we properly recognize their work and sacrifice."
"I first want to thank our Veterans for their service," said Sen. Jimmy Higdon, of Lebanon. "The Kentucky General Assembly is constantly striving to address the issues that affect veterans both at home and while they are abroad. Our veterans are – and will continue to be – a priority to us."
The bills signed include:
House Bill 337
This measure applies military experience toward obtaining a heating, ventilation and air conditioning license and allows a 60-day grace period after the expiration of the license for the licensee to continue to practice and apply for renewal.
House Bill 289
This measure adjusts the membership of the Kentucky Commission on Military Affairs to reflect critically important military commands within Kentucky and their unique contributions to our national defense and the economic vitality of the region.
"The men and women who give their all to protect our nation deserve to have folks looking out for them who share their passion and understand their unique talents," said Rep. Jeff Greer, of Brandenburg. "Helping ensure that all aspects of national defense are reflected on the Kentucky Commission on Military Affairs will only strengthen this important organization."
"The collaboration and partnership between the Kentucky Commission on Military Affairs and military commands within the Commonwealth is strengthened by expansion of our membership," said retired Col. David Thompson, executive director of the Commission on Military Affairs. "We now add the Army's Human Resources Command, Recruiting Command, Cadet Command, the adjutant general of the Army, the Huntington District of the Corps of Engineers and the 84th Training Command of the Army Reserve. As we focus on the future of the vitally important military installations in Kentucky, we must have all the key leaders at the table. House Bill 289 recognizes the importance of the military in Kentucky and strengthens the bond between our military and our Commonwealth."
House Bill 189
This measure clarifies that the Kentucky Department of Veterans Affairs has administrative authority over the Veterans' Program Trust Fund and the authority to promulgate administrative regulations related to the trust fund.
"The Veterans' Program Trust Fund is vital to making sure Kentucky veterans get the assistance and programs which they earned through their service, and this bill will help the fund stay focused on this mission," said Rep. Charlie Miller, of Louisville.
House Bill 322
This measure establishes a special military service academy license plate, available Jan. 1, 2015, to current attendees and graduates of the U.S. military service academies.
"As someone who is a graduate of the U.S. Air Force Academy, I can appreciate and applaud my fellow Kentuckians who count themselves among the alumni of our outstanding military academies," said Rep. Tim Moore, of Elizabethtown. "I'm proud my bill passed both chambers and will become law, to allow our graduates to proudly display their alma mater on their Kentucky license plate."
House Bill 246 This measure adds the word "history" to the Kentucky Military Museum. The Kentucky Military History Museum is located on East Main Street in Frankfort. "The Kentucky Military History Museum plays a crucial role in educating our citizens about the sacrifices our men and women in uniform have made on our behalf," said Rep. Kevin Sinnette, of Ashland. "Since the completion of its five-year renovation last year, it has become what I think is one of the finest museums of its kind in the country. I'm proud to sponsor the law that is helping to promote this institution."
House Bill 234
This measure creates the recognition of Korean War Armistice Day on July 27 by the Governor's office through an annual proclamation.
"It's time we make 'The Forgotten War' a time of remembrance and thanksgiving, and recognize those who defended the free rights of others against the encroachment of communism," said Rep. Myron Dossett, of Pembroke. "House Bill 234, which I proudly sponsored during the 2014 session, designates July 27th as a time to thank our Korean War veterans. But I'm hopeful that Korean War Armistice Day is the first step for us to appreciate those who served and fought in Korea on a daily basis."
At the signing, Gov. Beshear highlighted the progress his administration is making in assisting active members and veterans.
One goal, he said, is to strengthen mental health services for service members, veterans and families.
Currently, the Kentucky Department of Veterans Affairs (KDVA) is partnering with the federal Department of Veterans Affairs and the Department of Behavioral Health, Developmental and Intellectual Disabilities to expand telemental health services for veterans in rural Kentucky.
KDVA is also in the process of building a fourth state veterans nursing home in Radcliff. The design provides 120 veterans with a private room and bath and family-style living room, dining room, kitchen and patio. A separate administration building will house recreation, therapy and other services. Construction began in July 2013; the facility is scheduled to open in September 2015.
Additionally, KDVA, in conjunction with the national Vietnam War Commemoration Partner Program, will mark the 50th anniversary of the Vietnam War by planning local and community events and activities in 2014 and 2015, honoring Vietnam War Veterans and their families for serving during a tumultuous period in our nation's history.
"We are seeking commemorative partners, like local communities, universities and other organizations, to assist in thanking and honoring Vietnam veterans and their families," said KDVA Commissioner Ken Lucas.