(Dry Ridge, Ky.) -- The Kentucky Purple Heart Trail doesn't run through Grant County, but Kentucky State Police Post 6 in Dry Ridge has a special connection to it. On May 27th, the day after Memorial Day, the post hosted a special ceremony to return a Purple Heart medal to the family of a World War II soldier.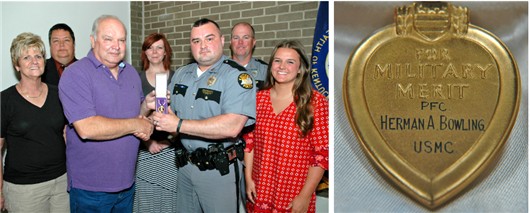 The Purple Heart presentation ceremony included (left to right ) Barb Bowling (wife of Gary Bowling), retired KSP Det. C.J. Jaskowiak, Gary Bowling, Post 6 Intelligence Analyst Mindi Thompson, Post 6 Commander Capt. Anthony Taulbee, Tpr. Davd Jones, Post 6 Public Affairs Officer, and Highlands High School student Bethany West.
Troopers and staffers of the post presented the medal to Grant Co.-resident Gary Bowling, the nephew of Private First Class Herman A. Bowling, a 20-year-old Marine who was wounded on July 27, 1944 on the island of Guam during the Pacific campaign. While he was being removed from the battlefield by medical corpsmen, one of them stepped on a land mine, killing Bowling and several of the corpsmen.
"His uncle earned this medal by making the ultimate sacrifice for our country and we wanted to make sure it was returned to the family," said Capt. Anthony Taulbee, commander of Post 6.
"You don't know how important this is to us," said Bowling, whose father died four years ago at age 88. "It would have meant a lot to him. He missed his brother. We thank you for all your efforts to get this back to us."
How the post got the medal is a mystery. Det. C.J. Jaskowiak discovered it in a file cabinet shortly before his retirement in 2013. An Army veteran of the 1980's era, he knew what it represented. It is a combat decoration awarded to members of the U.S. armed forces who are wounded or killed in action against an enemy of the United States.
Jaskowiak attempted to learn more about the medal's owner without success. The only clue was an engraved name on the back which read: PFC Herman A. Bowling, USMC. Upon his retirement, he passed the medal on to Mindi Thompson, a criminal intelligence analyst at the post, for further research.
Thompson kept the medal on her desk, a silent sentinel to an untold story. Her efforts to solve the mystery had limited success until she enlisted the help of Bethany West, a Highlands High School student working at the post in a mentoring program.
Thompson steered her toward some initial resources and after that West "really ran with it," recalls Thompson. "She did an excellent job."
Using various online resources such as Ancestry.com and Google, West started getting hits on the name. She was then able to search family trees to narrow down the hunt. She even received help from the Pendleton Co. Historical Society. The entire process involved about 13 hours of research.
"The fact that he died so young, with no wife or children, added difficulty to the search," said West. "Although he had six sisters and five brothers, most of them had already passed away."
"His military records only gave his mother as a family contact," noted Thompson. "The trail finally led to a brother in Florida, who referred us to Gary Bowling, a nephew, who, ironically, lives only a few miles from Post 6," she added.
"The whole process was an exciting and rewarding experience," says West, who hopes to pursue a college major in criminology. "It was really interesting to track down the elements of the story and help a family reunite with a piece of its history."
Pfc. Herman A. Bowling was buried in a temporary grave on Guam. In 1948, his remains were repatriated to the U.S. and interred in Gardnersville Cemetery in Pendleton County, Ky.
The Purple Heart is the oldest known U.S. military decoration. Introduced as the "Badge for Military Merit by Gen. George Washington in 1782, it originally consisted of a heart-shaped piece of purple cloth or silk to be worn over the left breast. Today it takes the form of a heart-shaped medal within a gold border containing a profile of Gen. Washington. Above the heart is the general's coat of arms. It is awarded in the name of the President of the United States and it differs from all other decorations in that the individual is not "recommended" for the award, but is entitled to it after meeting specific criteria. It is ranked immediately behind the Bronze Star and ahead of the Defense Meritorious Service Medal in order of precedence.