On June 21st, 2014 Price will present his new program, "What I Saw at Cane Ridge" at the Cane Ridge Meetinghouse in Bourbon County, Kentucky
Widder's Landing deals with early Kentucky farm life, river trade, cabin raising, romance, politics, war, (the War of 1812) natural phenomena, (the Great Comet of 1811, an eclipse, the largest-ever documented passenger pigeon flight and the New Madrid Earthquakes--and frontier religion. In the story Price modeled a "brush arbor" sermon on the Cane Ridge Revival of 1801. Readers began asking--"Were the revivals really like that?" They are still asking.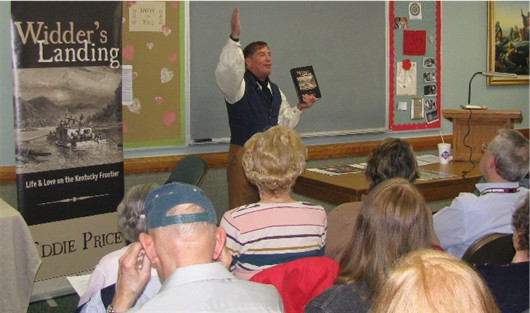 Eddie Price at Louisville Genealogical Society, April 2014.
Price tells them about Cane Ridge and the transformation that it wrought upon Kentucky. In fact, he believes that the Cane Ridge Revival is one of the top five defining events in Kentucky history. In answer to folks wanting a return performance he developed a historical program about the revival. (It will be added to his other programs in the 2014-2015 Kentucky Humanities Speakers Bureau Catalog.)
The "What I Saw at Cane Ridge" program is about 45-minutes long (but can be tailored to suit a group's needs) and consists of Price dressed in authentic costume, an informative powerpoint slide show, a 20-minute drama segment, and a hymn from the early 1800's (accompanied by CD consisting a banjo, mandolin, and guitar.) He engages the audience and invites them to sing along. He talks about the Great Awakening, the Second Great Awakening and the ongoing impact of the "Kentucky Revival." He also includes some great information on the Cane Ridge Meetinghouse, museum, and grounds which he has visited. As a retired history teacher (Hancock County High School) and college instructor (Owensboro Community College) he provides a sound educational program--one that is also colorful and entertaining.
The program has been presented for the Hickman County Arts Council and Historical Society, the Louisville Genealogical Society, Trimble County Historical Society, Owensboro Community & Technical College, Penn's Store in Gravel Switch, Ky., McLean County Library, Bullitt County Genealogical Society, and for the 125th Anniversary of Crofton Christian Church.
You may check out the Cane Ridge Meetinghouse website for more details. http://www.caneridge.org/