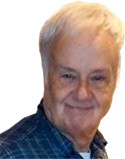 Bet there is one sin they will never be able to tax
JUST ONE TIRED REDNECK'S OPINION
By Cletus Maricle
FREE POT, NO POP. That is how the people of Berkeley, California, feel about sin.
On Tuesday, November 4, 2014, Berkeley voters imposed a new sin tax on the sin of drinking sodas with sugar, sweetened tea, sports drinks and beverage syrups for coffee shops.
A sin tax like tax on tobacco and alcohol is supposed to reduce consumption and raise revenue at the same time.
Now this is in a city where low income residents get free marijuana for medical purposes. The city probably needed the tax on pop to buy the pot.
Bet there is one sin they will never be able to tax.
That is nude dancing in strip joints because the Supreme Court has said that that is an expressive art form protected by the First Amendment of the United States.
If they ever try to tax me for drinking pop I am going to argue that my chewing tobacco and drinking grape pop at the same time is an expressive art form.
What will the Supreme Court say about that?
Let's battle for our Pepsi Rights.
JUST ONE TIRED REDNECK'S OPINION.