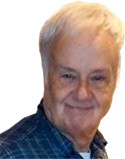 Hog killing time is coming just in time to open a new French restaurant in Manchester, Kentucky
JUST ONE TIRED REDNECK'S OPINION
By Cletus Maricle
The meteorologists can call this spell what they want—an Arctic blast, a polar vortex, or an Arctic insult. They just don't know what we Rednecks know.
It is Hog Killing Time. Be sure and don't let the word out to People for Ethical Treatment of Animals (PETA) because they will come and try to stop us.
This will cause a Redneck War, which we will surely win and they will surely lose.
PETA is not going to stop us from having fried liver, souse meat, or tenderloin.  We will cure our hams and middlings. Lard must be rendered.
We may even restart making homemade soap.
Wait, after we have done all this, who will want our vittles?
PETA, that is who.
Hog killing time is coming just in time to open a new French restaurant in Manchester, Kentucky.
Details later.
JUST ONE TIRED REDNECK'S OPINION...