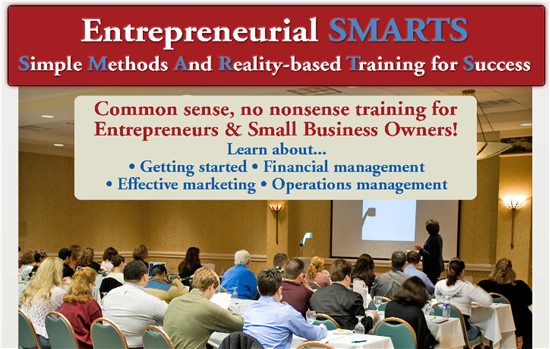 SOMERSET, Ky. – The town of Manchester is the first stop for Southeast Kentucky Economic Development Corporation (SKED)'s Entrepreneurial SMARTS training course in 2015.
Entrepreneurs and small business owners in Manchester and the surrounding communities are encouraged to register for the small business training course being offered there January 22, 29 and February 2, 12 at the Clay County Cooperative Extension office, located on 86 Muddy Gap Road in Manchester.
Entrepreneurial SMARTS is a four-session, 12-hour course designed to provide entrepreneurs with the knowledge and resource materials they need to get a new small business off the ground. This training also provides owners of existing small businesses the skills they need to become more successful and grow their businesses.
To date, 368 aspiring entrepreneurs and small business owners have completed entrepreneurial SMARTS training in 29 sessions held across the 45 counties in SKED's service area.
This unique and useful training is made possible thanks to a partnership between SKED and Appalachian Regional Commission (ARC).
Other training sessions schedule next year include: Edmonton: Metcalfe County Cooperative Extension, on 422 East Street, February 16, 23, March 2, 9; Louisa:  Lawrence County Cooperative Extension, located at 249 Industrial Park Road, March 12, 16, 26 and April 2; Monticello: Wayne County Cooperative Extension, on 255 Rolling Hills Boulevard, April 8, 13, 22 and 29; Harlan: Harlan County Cooperative Extension (Depot), located on 110 River Street, May 7, 14, 21 and 28; Irvine: Estill County Cooperative Extension, at 76 Golden Court, August 6, 13, 20 and 27; Inez: Martin County Cooperative Extension, located at 9 Holy Street, September 2, 9, 16 and 23.
SKED staff conducts the entrepreneurial and small business training program - Entrepreneurial SMARTS: Simple Methods And Reality-based Training for Success – which is based on a nationally recognized training program called Core Four® Business Planning Course.
"Entrepreneurial SMARTS has been a great success throughout Southeast Kentucky, as our instructor and the training provided by the program has touched more than 350 lives and helped shore up their future endeavors," said SKED Executive Director Brett Traver. "As we look to grow the economy of Southeast Kentucky, entrepreneurs will be the ones to lead the way. Nowhere else can entrepreneurs receive such valuable training at so little cost. We are proud to partner with ARC on this training once again."
Graduates include owners of existing small businesses, folks working to open their own small business in the near future, entrepreneurs seeking some direction on the basics of starting and managing a small business, retirees, college students, employees of nonprofit organizations seeking education and training to more effectively assist their constituents and people who are unemployed and seeking an alternative to the traditional job market. Anyone interested in learning about starting and successfully operating a small business is encouraged to participate.
During the classroom-style training sessions, entrepreneurs and small business owners are instructed in how to create a business plan including basic knowledge about starting, financing and operating a business and planning for success. Class participants are also given the tools needed to determine if business ownership is for them.
Existing small business owners receive the support they need to advance the growth of their business and operate a solid, reliable investment. Upon successful completion of this training, participants receive a certificate recognizing their achievements and are eligible to apply for business startup or expansion funding from SKED's loan funds.
This nationally recognized course is valued at $250 per student. However, due to financial support through a grant from the ARC, combined with financial support from SKED, participants pay a mere $25 per person. In addition, each participant receives a valuable Core Four® Business Planning Course manual and numerous resource materials.
For information about entrepreneurship training, contact SKED (606) 677-6100. To register, visit: www.southeastkentucky.com and click on the Training link.
Formed 28 years ago by Fifth District Congressman Hal Rogers to create jobs in Southeast Kentucky, the economic development organization, based in Somerset, serves a 45-county region in Kentucky. Staff works with business owners, small and large, throughout its service area to identify financing solutions to fund their location, expansion and working capital needs.