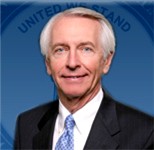 State highway crews will be out in force
"The National Weather Service is forecasting a major winter storm in Kentucky, beginning late tonight and continuing Monday and into Tuesday, with projected accumulations of a foot or more of snow in many places.
Kentuckians need to exercise care for their safety. I encourage all Kentuckians to stay on top of weather reports this evening and be prepared for extreme conditions tomorrow.
That preparation would include keeping travel to a minimum and staying off the road entirely if possible. Our highway crews will be out in force but are likely to be hard-pressed just to keep interstates and other high priority routes cleared.
Frigid temperatures, combined with the risk of becoming stuck in snow, will make for a potentially dangerous situation for travelers. Our first priority must be safety." – Gov. Steve Beshear.