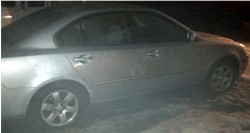 Laurel County, Ky. - Sheriff John Root is reporting that Deputy Shawn Jackson investigated the theft of a silver colored 2006 Kia Optima from a residence on Rush Lane in London on February 8, 2015.
Deputy Jackson followed up on leads developed in the case including interviewing persons of interest in southern Laurel County.
On Sunday, February 22, 2015 Deputy Jackson developed information on the whereabouts of the reported stolen vehicle, and with assistance from Corbin Police Officer Proffitt and Knox County Sheriff's Deputy Drew Wilson, the reported stolen Kia Optima was recovered from a residence on Standard Avenue in Corbin.
Deputy Jackson learned through investigation that during the three-week period the stolen vehicle had changed hands three different times and the title and paperwork in the car had forged signatures.
Deputy Jackson reports that there were conflicting statements from suspects, witnesses, and the victim in the case.
All information developed from this investigation will be presented to the next term of the Laurel County grand jury for their consideration.
Deputy Jackson was assisted by Deputy Andrew Lawson in this investigation.
Pictured is the recovered stolen vehicle.