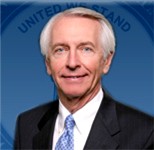 Kickoff event spotlights prevention efforts
FRANKFORT, Ky. – The prevention and advocacy efforts of several individuals were highlighted today by Gov. Steve Beshear and advocates as part of the kickoff of Sexual Assault Awareness Month.
The Capitol Rotunda event was cosponsored by the Kentucky Cabinet for Health and Family Services (CHFS) and the Kentucky Association of Sexual Assault Programs (KASAP). Gov. Beshear signed a proclamation declaring March as Sexual Assault Awareness Month in Kentucky.
"Sexual violence is a particularly significant issue in Kentucky, because it affects people of all ages, from all walks of life," Gov. Beshear said. "It's important that we recognize those who are working toward ending the violence and encourage more discussion, since education is the key to prevention."
Teresa James, commissioner of the CHFS Department for Community Based Services, said partnership is fundamental to improving awareness.
"When staff from our agency and other government agencies work closely with KASAP to educate Kentuckians about sexual assault, we see progress," she said. "We have a duty to help protect all Kentuckians and change the cultures that permit sexual violence."
Sen. Julie Raque Adams, of Louisville, and House Speaker Greg Stumbo, of Prestonsburg, have sponsored Sexual Assault Awareness Month resolutions.
Wednesday's event falls on the 25th anniversary of KASAP.
KASAP Executive Director Eileen Recktenwald said sexual violence is no longer an issue that is talked about in whispers.
"It's a topic people are not quiet about anymore," she said. "And that is the first step to real education – open discussion. Every person has an opportunity to help end sexual violence, from listening to a teen to talking to college students to making a report of suspected assault."
Recktenwald said the comprehensive response is important, because sexual assault affects people physically, emotionally, mentally and spiritually, and it affects their relationships, too.
"When anyone – women, men, children or adults – needs help, the state's network of rape crisis centers offer comprehensive assistance to all survivors in their path to recovery," she said.
Recktenwald said family and friends of assault survivors may get help through the centers, and that greater support from government leaders and community partners are building stronger services.
At an awards dinner tonight in Frankfort, five Kentuckians will receive the Sexual Assault Awareness Month Award (SAMMy) for their contributions to end sexual violence. The winners, who were also recognized at the Rotunda event, are as follows:
Regional SAAMys
Elizabeth Madariaga, Sexual Assault Awareness Programs Coordinator, Western Kentucky University, Bowling Green.
Detective Tracy Haynes, Kentucky State Police, Post 11, London.
Statewide SAAMys
Anita Capillo, Sexual Assault Nurse Examiner, Lexington-Fayette Urban County Government, Lexington.
Darko Mihaylovich, Louisville Human Trafficking Task Force, Louisville.
For the second year, the Fonetta Elam Award honors excellence in clinical supervision and pays tribute to Elam, who was director of the Prestonsburg Rape Victim Services Program and provided services to domestic violence and sexual assault victims for more than 30 years. Elam died in January 2013.
Recktenwald said this award emphasizes the importance of supervised clinical work in the area of victim services and to reward and recognize the effort of exemplary professionals in that field.
Fonetta Elam Award
Kathy Doyle, Director of Therapy Services, Bluegrass Rape Crisis Center, Lexington.
For more information about the sexual assault prevention programs and services and Sexual Assault Awareness Month, please visit http://chfs.ky.gov/dcbs/dpp/violenceprevention.htm orhttp://www.kasap.org/SAAM.html.