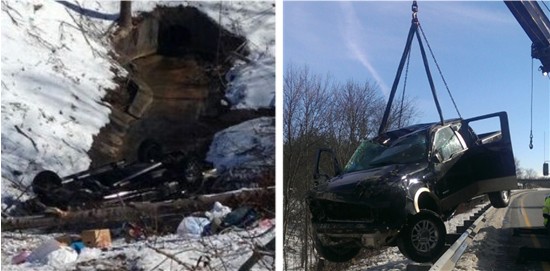 Laurel County, Ky. - Sheriff John Root is reporting that Deputy Larry Parrott investigated a single vehicle injury traffic crash which occurred on Tuesday afternoon February 24, 2015 at approximately 1:59 P.M. 6 miles south of London off the southbound lanes of I- 75.
Deputy Parrott reports that a black colored Ford F-150 pickup was apparently traveling southbound on I-75 when the driver allegedly had a medical event and passed out briefly.
The pickup truck left the roadway striking a guard rail, then traveled over the guard rail, and overturned numerous times down an embankment and finally came to rest on its top in a small creek.
The driver of the pickup was identified as William Sams age 62 of Cincinnati Ohio – injured a passenger identified as Ronna Sams age 63 also of Cincinnati Ohio – injured also in the vehicle was a one-year-old standard breed poodle that appeared to be uninjured.
Both occupants were transported by Ambulance Inc. of Laurel County to St. Joseph Hospital London for treatment of their injuries, their poodle rode in the front seat of the ambulance to the hospital.
Assisting at the crash site was: Deputy Brandon Broughton and Deputy Kyle Gray.
Also assisting was: Laurel County Fire Department and London Laurel Rescue Squad.
The roadway was shut down for removal of the vehicle for approximately 45 min.
Additionally, one lane was blocked for two hours and 45 min. while the vehicle was removed from over the embankment.
Attached is a photo of the crash site & removal of the vehicle provided by Deputy Larry Parrott.