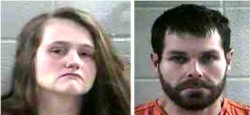 Laurel County, Ky. - Sheriff John Root is reporting that Deputy Kevin Berry arrested two individuals on US 25 approximately 7 miles south of London on Sunday morning March 1, 2015 at approximately 7:43 A.M.
The arrest was the result of a complaint that Deputy Berry was dispatched to investigate alleging that a tan colored van had been in the fuel pump lane of a business for approximately an hour and the occupants appeared to be passed out inside the vehicle.
When Deputy Berry arrived at the scene he observed both occupants slumped over in their seats in the vehicle and conducted an investigation.
Both individuals were determined to be under the influence and were arrested and are identified as: Melissa Ballenger age 35 of McClure Bridge Road, Lily, KY - charged with operating a motor vehicle under the influence – first offense, operating on suspended or revoked operators license, failure of owner to maintain required insurance first offense, and numerous other traffic offenses.
The passenger in the vehicle was identified as: Hollis Jones age 33 Sandy Branch Road, Barbourville, KY - charged with public intoxication – controlled substances.
Both individuals were lodged in the Laurel County Detention Center.
Photos attached are courtesy of the Laurel County Detention Center.