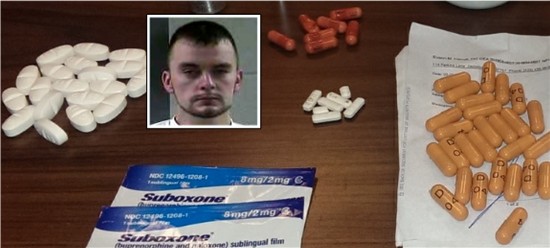 Laurel County. Ky. -Sheriff John Root is reporting that Deputy Brandon Broughton along with Deputy Kyle Gray arrested a Clay County man on Tuesday evening March 10, 2015 at approximately 6:33 P.M..
Arrested ws Shawn Smith age 27 of North Hwy. 421, Manchester, KY.
The arrest occurred off North Laurel Road. approximately 1 mile north of London after deputies were dispatched to a complaint of a male subject beating on the door of a pharmacy that was closed, and the subject was refusing to leave.
When deputies arrived and conducted an investigation on the subject there, – the subject advised that he was trying to get into the pharmacy to pick up his medication. Deputies determined that this subject was under the influence.
In addition, in the course of the investigation deputies discovered this subject in possession of numerous prescription medications in a white container to include – Suboxone strips, Xanax bars, and an assortment of other capsules and pills. The subject stated he had driven to the pharmacy.
Shawn Smith was charged with public intoxication – controlled substances; prescription controlled substances not in proper container first offense; driving on DUI suspended license – second offense; and numerous other traffic charges.
In addition, this subject was charged on an outstanding Laurel County bench warrant of arrest for failure to appear in court.
Shawn Smith was lodged in the Laurel County Detention Center.
Inset photo attached is courtesy all the Laurel County Detention Center.