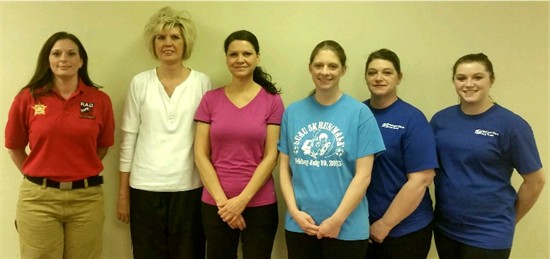 Laurel County, Ky. - Sheriff John Root is reporting that Laurel Sheriff's Deputy Kenny Jones along with Special Deputy Elizabeth Sparks, and LeAnn Kennedy of the London City Police conducted a self defense class that is nationally recognized ,and consisted of three nights of training with each night requiring three hours of classroom work and practical exercises.
The class instructed students on how to be prepared, how to take control, and how to fight to protect themselves. The class was conducted free of charge. The class graduated on Tuesday night March 10, 2015.
Sheriff Root stresses that, it is our goal at the Laurel County Sheriff's Office to make area professional persons, and area citizens more aware of their surroundings, and to provide some preventative safety measures that can be used along with some basic self defense that can be deployed in the unlikely event of an attack.
Sheriff Root is offering future classes. Citizens can contact Deputy Kenny Jones for information at the Laurel County Sheriff's Office at 606 -864-6600.
The graduating class on March 10th, 2015 included Sharon Philpot, Traci Maxey, Kelly Burton, Debbie Pierce, Ashley Pierce and Kylee Maxey.  All but Kelly Burton are 1st National Bank Employees. Class instructor is pictured on the left.
Special thanks to 1st National Bank for providing space in their facility for training!