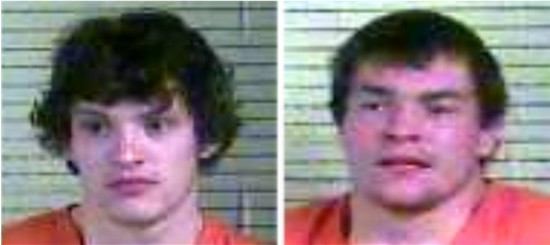 (Beattyville, KY) - The Kentucky State Police, Richmond Post was notified that two inmates escaped from the custody of the Wolfe County Jailer, on HWY 498 in Lee County yesterday.
The initial investigation alleges that cousins, Dallas Trent, 19 years old of Campton, and John Trent, 23 years old of Campton, escaped Wednesday afternoon at approximately 12:30 pm.
It is alleged that both suspects escaped out of a transport vehicle while traveling back to Wolfe County from Three Forks Regional Jail in Beattyville, Ky.
Both subjects were being detained after being indicted by the Wolfe County Grand Jury for Robbery 1st Degree.
Dallas and John Trent are both described as being approximately 5'7" tall and weighing 140 pounds. They were last seen wearing a white t-shirt and pants of an unknown color.
Anyone with information about the possible location of Dallas Trent or John Trent is asked to contact local law enforcement or the Kentucky State Police at 859-623-2404 or 1-800-222-5555.