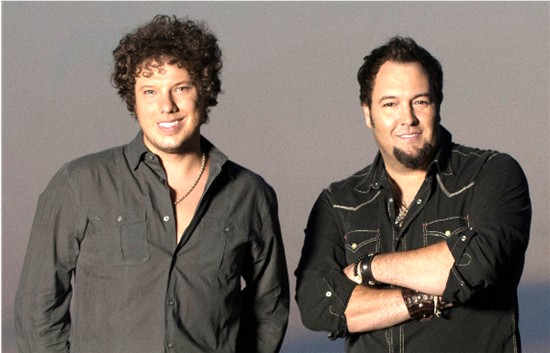 Nashville recording artists Halfway to Hazard have not forgotten their Kentucky roots.
Nashville recording artists Halfway to Hazard return to Kentucky for benefit concert to support The Center's Rogers Scholars youth leadership program
Rising country music duo Chad Warrix and David Tolliver return to Kentucky for a benefit concert performance to support The Center for Rural Development's Rogers Scholars youth leadership program on Friday, April 24, at 7:30 p.m. (EST) at The Center in Somerset.
"Chad and David know what it is like to follow their dreams from the mountains of Southeastern Kentucky to playing in large arenas filled with thousands of screaming fans," said Delaney Stephens, youth programs coordinator and community liaison for The Center. "The Rogers Scholars program provides leadership and exclusive college scholarship opportunities for high school students in Southern and Eastern Kentucky to realize their full potential as the region's next generation of leaders and entrepreneurs."
Halfway to Hazard is more than a self-penned title. It represents Chad and David's musical journey from the mountain roads of Appalachian Kentucky to the bright lights of Nashville and everywhere in between.
"I grew up riding ATVs and dirt bikes, tearing up those winding mountain roads, camping out with friends, and playing music," said Chad, who was raised in Breathitt County. "Those are the things I wouldn't trade for the world. I think my upbringing inspired me to be creative."
David, who lived about 50 miles away in Knott County, started singing in church. He played high school basketball and was in the school band. "We really appreciated the little things, going to Hazard to see a movie was a big deal."
Growing up, Chad and David would meet halfway between their two home counties in Hazard, Ky., in neighboring Perry County to watch a movie or listen to live music on a Friday or Saturday night.
The name stuck. In fact, Halfway to Hazard are the opening words of their first song, "Cold," which Chad and David wrote together several years after each had put Kentucky in their rear view mirror and ended up in Music City.
Halfway to Hazard, or H2H, received its first big break in 2007 when the Kentucky boys released their first self-titled album and were invited to open for Tim McGraw and Faith Hill on the Soul2Soul Tour.
In 2008, H2H released its first single, "Daisy," which became an instant hit on country radio, and formed its own grassroots fan club, which call themselves, "Dukes and Daisies."
Local band One Way is scheduled to open for Halfway to Hazard. Tickets are $10 per person. All proceeds will benefit the Rogers Scholars program and the youth of Southern and Eastern Kentucky.
"Rogers Scholars taught me that no matter where you come from, or what your circumstances are, opportunities are available for everyone," said 2014 Rogers Scholars graduate Ryan Fox of Carter County. "The Rogers Scholars program truly is an experience of a lifetime."
For tickets to the Rogers Scholars benefit concert, contact The Center's Box Office at 606-677-6000 or visit www.centertech.com<http://www.centertech.com>.
*****
Established in 1996 through the vision of U.S. Congressman Harold "Hal" Rogers, (KY-05), and other leaders, The Center for Rural Development is a nonprofit organization fueled by a mission to provide leadership that stimulates innovative and sustainable economic development solutions and a better way of life in Southern and Eastern Kentucky. In its 45-county primary service region, The Center provides innovative programs in leadership, public safety, technology, and arts and culture. The Center is committed to constantly expanding its capabilities in order to deliver a range of key services throughout Kentucky and the nation.