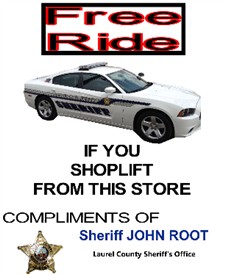 Laurel County, Ky. - You may have seen a new poster hanging in some Laurel County retail stores.
This one isn't offering a promotion for the store, rather it's offering a "Free Ride" to anyone who shoplifts, courtesy of the Laurel County Sheriff's Office.
Sheriff John Root reports that his office in conjunction with local businesses is offering a "Free Ride" courtesy of sheriff's deputies to the detention center for individuals who chose to shoplift at retail stores in Laurel County.
The Sheriff's Office says the "Free Ride" posters are available to all retail stores.
If you would like one for your retail store, call the Laurel Sheriff's Office at 606-864-6600 and the Sheriff's Office will bring your store a poster.