Manchester, Ky. - MPD is reporting that on Sunday, April 19, 2015 Manchester Police Assistant Chief Patrick Robinson was dispatched to a call at the Family Dollar Store in the Clay County Shopping Center.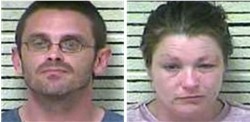 One of the employees observed two individuals inside of the store who had allegedly been at the store the day before stealing items.
Upon arrival Assistant Chief Robinson observed Jamie Chandler 41 and Linda Sue Collett 33 both of Laurel County (Clay County Jail records list Chandler as being from Manchester) exiting the business causing the door security system to activate.
Officers recovered $69.96 worth of medicine on the individuals.
Upon searching their vehicle, Assistant Chief Robinson discovered $283.13 worth of batteries, dvd's, makeup, and other items that where just taken by the individuals from the Dollar General Store at the Manchester Shopping Center.
The vehicle the two were operating was impounded. Two female juveniles where taken into protective custody and released to The Department of Family Services.
Photos courtesy of the Clay County Detention Center.