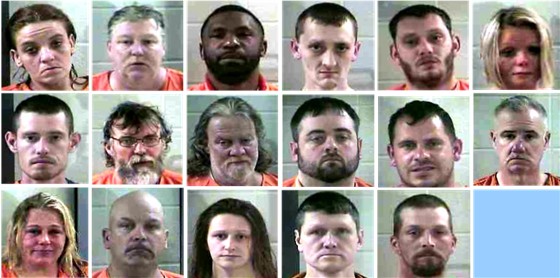 Laurel County, Ky. (11:45 P.M.) - Laurel County Correctional Center booking report for Wednesday, April 22, 2015.
Unless ClayCoNews overlooked a booking and of course taking into consideration that there may have been subjects jailed and released in between our monitoring sessions before this report was completed shortly before midnight, the following information is to the best of our knowledge correct according to jail records.
April 22, 2015 as of 11:45 P.M.
1. SHELLY BAIARRIO age 34 Of Corbin, Ky.
2. CLIFFORD HEALY age 52 of London, Ky.
3. SHAWUN PARKS age 36 of London, Ky.
4. KENNETH PREWITT age 24 of Williamsburg, Ky.
5. TIMOTHY RUSS age 26 of Cannon, Ky.
6. TASHA SHELTON age 31 of Jacksboro, TN
7. ANTHONY SMITH age 26 of Bimble, Ky.
8. JAMES COMBS age 51 of Hazard, Ky.
9. EDDIE GILLIAM age 50 of London, Ky
10. MATTHEW LAWSON age 33 of Corbin, Ky.
11. JAMES NAPIER age 33 of Dewitt, Ky.
12. GLEN DENNY age 51 of London, Ky.
13. KELLY GRAHAM age 38 of Lily, Ky.
14. LLOYD HENSLEY age 44 of Mt. Vernon, Ky.
15. ASHLEY HOOKER age 27 of somerset, Ky.
16. JAMES LOPEZ age 44 of Danville, Ky.
17. LOYD MORGAN age 36 of London, ky.