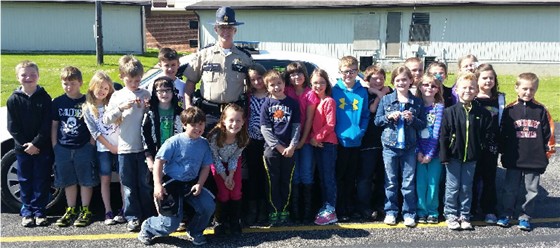 Laurel County, Ky. - Sheriff John Root is reporting that Deputy Gilbert Acciardo participated in a First Responders - Community Helper's career education event at Sublimity Elementary School on Monday April 27th, 2015.
Deputy Acciardo provided a tour of a sheriff's deputy's police cruiser. In addition, he presented a short informal talk with the students.
Deputy Acciardo spoke with students about the many services that the Laurel County Sheriff's Office provide. He also answered many questions from the students.
Deputy Acciardo enjoyed his interaction with all the students of Sublimity School.
Also participating was London City Police, London Fire Dept., Ambulance Inc. of Laurel County, and Air Evac Medical Helicopter.
Pictured are students from Jennifer Lawson's 2nd grade class posing at the sheriff's office police cruiser along with Deputy Gilbert Acciardo.
Sheriff Root appreciates the opportunity for his deputies to participate and interact with Laurel County children stating that: " Our young people are the future leaders of our county. We want to emphasize to our children that police officers and other first responders are their friends!"