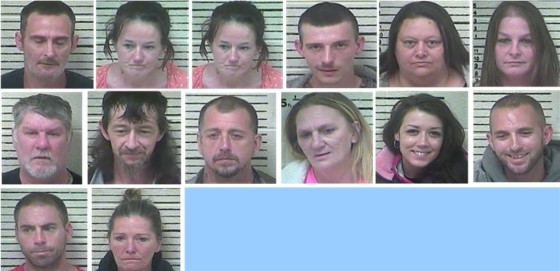 Clay County, Ky. (10:15 P.M.) - Clay County Detention Center booking report for Monday, April 27, 2015.
Unless ClayCoNews overlooked a booking and of course taking into consideration that there may have been subjects jailed and released in between our monitoring sessions before this report was completed before midnight, the following information is to the best of our knowledge correct according to jail records.
April 27, 2015 as of 10:15 P.M.
1. BRANDY GAMBREL age 33 of Manchester, KY
2. RONNIE MADDEN age 45 of Manchester, KY
3. ROBERT ASHLEY age 30 of Manchester, KY
4. JOHNNY BRUMLEY age 21 of Manchester, KY
5. MARY HUBBARD age 44 of Garrard, KY
6. SHIRLEY HUBBARD age 40 of Manchester, KY
7. LARRY JOHNSON age 51 of Manchester, KY
8. HARVEY MARCUM age 42 of Manchester, KY
9. KENNETH RAWLINGS age 41 of Manchester, KY 1
0. LORETTAL SMITH age 49 of Manchester, KY
11. ELISHA TURNER age 32 of Manchester, KY
12. JARRETT WAGERS age 30 of Manchester, KY
13. KELLY COUDILL age 41 0f Manchester, KY
14. PATRICIA SIBERT age 42 Manchester, KY