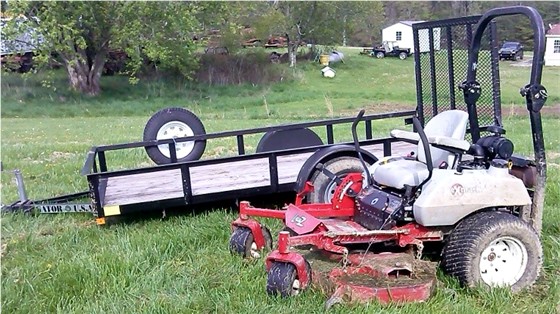 Laurel County, Ky. - Sheriff John Root is reporting that Deputy Josh Scott investigated the discovery of an X- Mark commercial zero turn lawn mower valued at approx. $8,000 that was found behind an uninhabited residence.
The mower was determined to be reported stolen from Pulaski County.
The mower was found on Sunday night April 19, 2015 off Taylor Bridge Road, approximately 5 miles south of London. Deputies have returned this mower to its rightful owner in Pulaski County.
Deputies also located a single axle utility trailer with a drop gate on it. It, too, is believed to be stolen however, its identification numbers have been removed.
Anyone that has had a utility trailer stolen fitting this description is asked to contact the Laurel County Sheriff's office.
Victims will need to provide a specific description of the trailer along with any special marks, equipment, identifiable numbers, or owner applied numbers that can be used to specifically identify their trailer.
Deputies assisting on the investigation included Deputy Rick Cloyd, Deputy Brandon Broughton, and Deputy Tommy Houston.
Investigation is continuing.