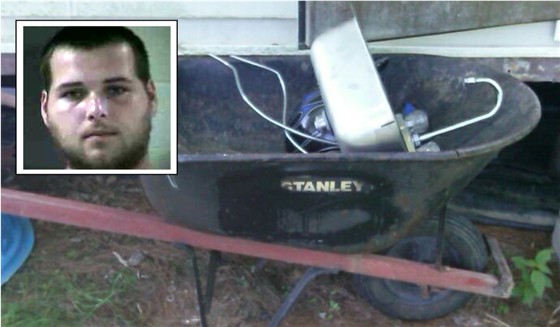 Laurel County, Ky. - Sheriff John Root is reporting that Deputy Josh Scott, and Deputy Shawn Boroviak arrested a London man on Tuesday afternoon May 12, 2015 at approximately 2:24 PM.
Arrested was Jared Malicoat age 24 of Laurel River Road, London, KY.
The arrest occurred off Laurel River Road, approximately 6 miles south of London after Deputy Scott developed information on the whereabouts of items stolen from a burglary of an outbuilding on Laurel River Road at an earlier date.Numerous items had been stolen including the kitchen sink.
When Deputy Scott arrived at the scene he located reported stolen items in plain view at this subject's residence. This subject stated that he had found the items this morning and did not know who they belonged to or how they got there. In addition, this subject stated he had placed some of the items under his trailer.
Numerous items were recovered including a wheel barrel, a jack, jack stands and a pressure washer aqnd a stolen kitchen sink.
Jared Malicoat was charged with burglary – third-degree; in addition, he was charged with Failure to appear in Laurel District Court on 3 outstanding bench warrants for charges including: Public Intoxication-Controlled Substances, Assault 4th Degree-Domestic Violence, and Theft by Unlawful taking.
He was lodged in the Laurel County Detention Center.
Photo of recovered property including a kitchen sink provided by Deputy Josh Scott.
Inset photo of Jared Malicoat provided by the Laurel County Detention Center.