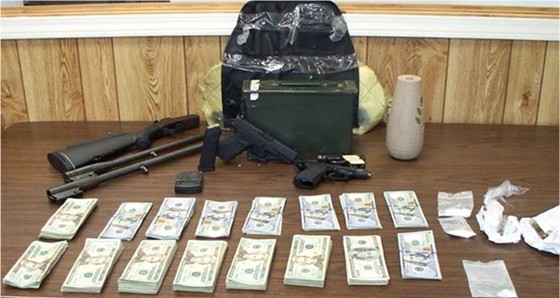 (Calvert City, Ky.) - On Monday, May 11, 2015 Trooper First Class TJ Williams stopped a vehicle traveling west on Interstate 24 between the 26 and 27 mile marker for a seatbelt violation.
The car was being driven by Debra D. StJernberg 54, of Grand Rivers, KY. While Trooper Williams was issuing the driver a citation, Trooper First Class Brad Ramsey deployed his canine, Oscar, to conduct a free air sniff around the vehicle.
The canine alerted to the odor of narcotics. During a search of the vehicle Troopers located a bag of crystal methamphetamine, two hand guns and $15,300.00 in cash from her purse.
Information obtained from the accused led to a search warrant being served at her RV in Grand Rivers. There additional bags of crystal methamphetamine, scales, two firearms and a bullet proof vest were located at StJernberg's residence.
Approximately 20 grams of crystal methamphetamine was located between her car and her residence, with a street value of $2,000.
StJernberg was charged in both Livingston and Marshall Counties with Trafficking in a controlled substance 1st degree Methamphetamine greater than 2 grams (firearm enhanced), and possession of a handgun by a convicted felon.
StJernberg was lodged in the Marshall County Jail.