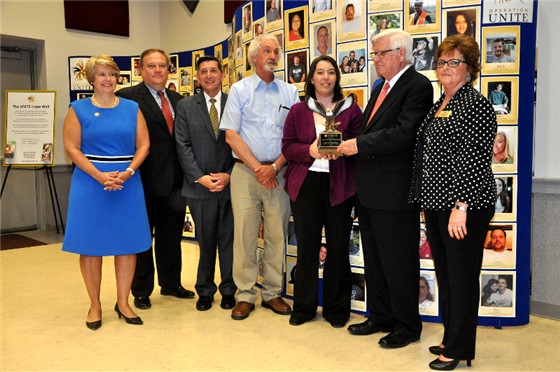 Members of the Owsley County Anti-Drug Council were honored for their anti-drug education and prevention efforts with youth during a celebration luncheon held May 5.
Continuing on the "Youth" theme, it is important to find ways to involve our children in activities that promote drug-free fun. Through a weekly mentoring program titled "Engage," targeting youth in grades 7 through 12, members of the Owsley County Anti-Drug Council are able to encourage involvement in many other programs offered by this coalition. These programs include archery, a summer camp, community clean-ups, a community theater, and a television show called "Community Showcase." For this innovative program designed to promote a drug-free county, UNITE presents the Owsley County Anti-Drug Council with the Youth Mentoring Award.
Accepting the award from Fifth District Congressman Harold "Hal" Rogers, White House Office of National Drug Control Policy Director Michael Botticelli, Corporation for National and Community Service CEO Wendy Spencer, Kentucky Senate President Robert Stivers and UNITE President/CEO Nancy Hale were Owsley County Anti-Drug Council Chair Cale Turner and Secretary Kacey Smith.