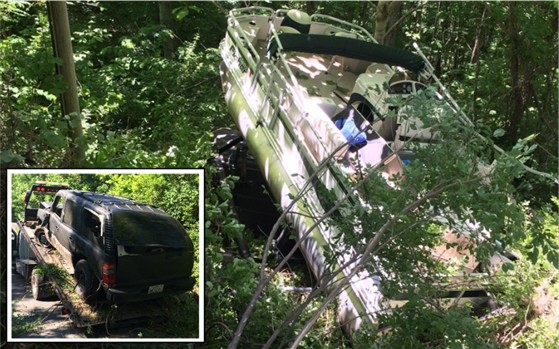 Laurel County, Ky. - Sheriff John Root is reporting that Deputy Tommy Houston investigated a single vehicle non-injury traffic crash which occurred on Sunday afternoon May 24, 2015 at approximately 2 P.M, on Rocky Branch Road approximately 5 miles north of London.
Apparently, a black colored Chevrolet Tahoe pulling a Tracker Fisher pontoon boat in tow lost the brakes on his vehicle as he traveled downhill, and the driver tried to steer his vehicle into an embankment to stop, however the vehicle traveled over an embankment approximately 25 feet overturning and coming to rest with the pontoon boat on top of the Chevrolet Tahoe.
Occupants in the vehicle were identified as the driver: Jason Garrison age 40 and passenger Kristen Garrison both of Manchester.
No injuries were reported.
Photos provided by Deputy Tommy Houston.