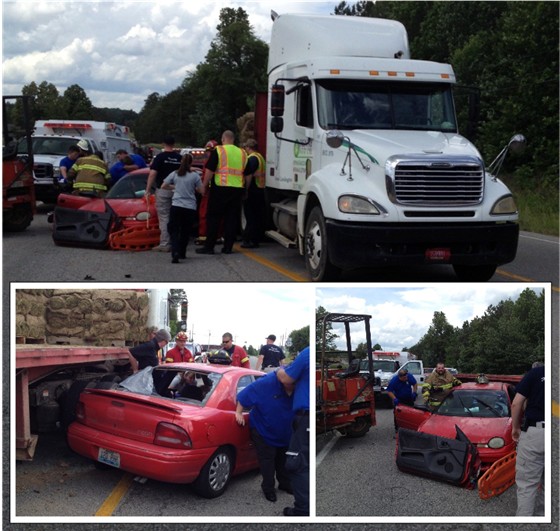 Laurel County, Ky. - Sheriff John Root is reporting that Deputy Larry Parrott investigated an injury traffic crash which occurred on Barbourville Road (Ky 229), approximately 4 miles south of London on Tuesday afternoon May 26, 2015 at approximately 2:43 P.M.
Deputy Parrott reports that apparently a white colored Freightliner tractor and flat bed trailer hauling sod had parked on the roadway between the north and southbound lanes and the driver was utilizing a forklift to remove sod from the trailer to a property off Barbourville Road.
A red colored Dodge neon traveling southbound on Barbourville Road collided with the forklift as it was moving from the trailer across the southbound lane of the Barbourville Road. After collision, the Neon slid partially under the trailer hauling sod. There were no persons flagging traffic prior to the collision.
The two occupants of the red Dodge Neon included: The driver, Kathleen Jones age 72 of McClure Bridge Rd., Lily – received serious injuries and was airlifted by PHI helicopter to UK Hospital Lexington for treatment, the passenger Betty Henson age 48 of McClure Bridge Rd., Lily – injured and removed by Ambulance Inc. of Laurel County to London St. Joseph Hospital for treatment.
The driver of the tractor-trailer and also the operator of the forklift was identified as William Denny age 45 of Richmond, KY – apparently not injured.
Barbourville Road was closed for approximately 30 min. while the crash was investigated and the scene cleared.
Assisting at the scene was Ambulance Inc. of Laurel County, London – Laurel County Rescue Squad,Campground Volunteer Fire Department, and PHI helicopter.
Photos of the crash site provided by Deputy Larry Parrott. Investigation is continuing.