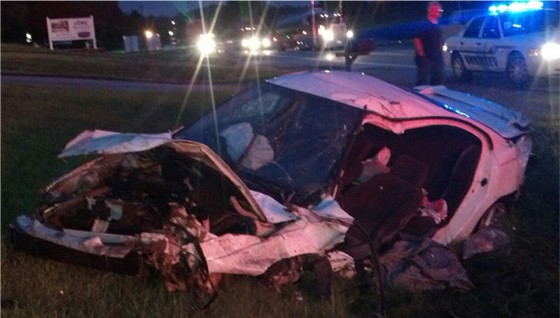 Laurel County, Ky. - Sheriff John Root is reporting that Deputy Shawn Jackson investigated a single vehicle injury traffic crash which occurred on US 25 approximately 8 miles south of London early Tuesday morning June 2, 2015 at approximately 5:09 A.M.
The investigating officer reports that apparently a Pontiac Grand Am was traveling southbound on US 25 when the vehicle suddenly crossed the centerline traveling into the oncoming line, leaving the roadway and striking a culvert, going airborne and then struck the ditch line, rolling over one time and coming to rest off the roadway.
The driver had to be extricated from the vehicle. The vehicle received severe damage.
Apparently, the driver had fallen asleep prior to the crash.
The driver was identified as Jonathan Paul Helton of Golden Creek Rd., Barbourville – transported to London St. Joseph Hospital for treatment of injuries.
This subject was restrained by a seatbelt. Assisting at the scene of the crash was Ambulance Inc. of Laurel County, London Laurel Rescue Squad and Lily Volunteer Fire Department.
Picture of the crash site provided by Deputy Shawn Jackson.