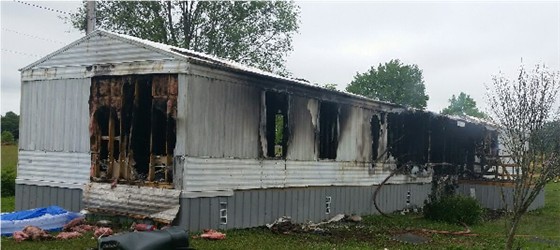 Laurel County, Ky. - Sheriff John Root is reporting that Detective Kevin Berry assisted by KSP Arson Investigator Pat Alford are conducting an investigation into a mobile home fire that resulted in the death of a male toddler on Wednesday morning June 3, 2015 at approximately 10:15 A.M.
Laurel 911 Communications Center dispatched a structure fire to area fire departments and when first responders began arriving at the scene they reported children trapped in the residence.
Next-door neighbors and persons passing by had attempted to make entry to the residence and could not due to the out-of-control fire.
When London Fire Department arrived on scene, they made entry and found and removed a male toddler found in a back bedroom, that child was pronounced deceased by staff with the Laurel County Coroner's office.
Apparently, other children and adults from the mobile home were able to escape. The occupants were all transported to London St. Joseph hospital for treatment. From there, 2 adults were airlifted to UK Med Center in Lexington for treatment. Laurel Sheriff's Detective Kevin Berry is conducting a death investigation.
KSP arson investigator Pat Alford is assisting in an attempt to determine cause and origin of the fire that destroyed the mobile home. An autopsy will be performed in Frankfort on Thursday morning to help determine cause of death of the male toddler.
Assisting at the scene for Laurel Sheriff's office was: Sheriff John Root, Capt. Chuck Johnson, Lieut. Greg Poynter, Sgt Josh Garlor, Deputy John Inman, Deputy Shawn Boroviak, Deputy Brandon Broughton, Cpl. Jack Caudill, Bailiff Travis Napier, Bailiff Cody Faulconer, Bailiff Patrick Harris, and CSO Brad Mink.
Also assisting was London Fire Department, East Bernstadt Fire department, Crossroads Fire department, Ambulance Inc. of Laurel County, London -Laurel Rescue Squad, Kentucky State Police, Laurel County Emergency Management, State Fire Marshals office, and the Laurel County Coroner's office.
Investigation is continuing.
Photo of the scene attached.