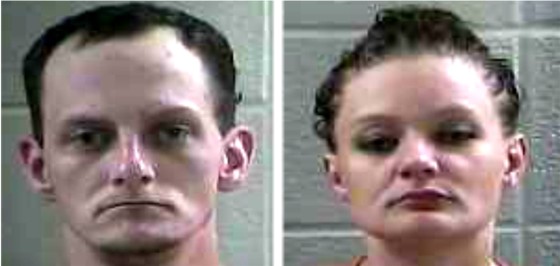 Laurel County, Ky. - Sheriff John Root is reporting that deputy Tommy Houston along with Deputy Larry Parrott arrested two individuals on Monday evening June 8, 2015 at approximately 6:59 P.M.
The arrests occurred at Walmart near Corbin in southern Laurel County after Walmart's loss prevention team detained two individuals.
When deputies arrived at the scene and conducted an investigation they learned that a male subject had allegedly been observed selecting items in the store and giving them to a female subject who concealed the items in her purse. The two individuals attempted to leave the store without paying for the items.
Items included shorts, cammo tee, a souvenir, sunglasses, men's socks, a cable, and a car charger – total value of the theft was $81.70.
In addition, the male subject was determined to be under the influence. Deputies found the male subject in possession of a used syringe that had contained Roxicet that the male subject advised he had injected earlier.
Deputies arrested Mark Alexander age 27 of Mt Moriah Rd., London charging him with theft by unlawful taking – shoplifting; public intoxication – controlled substances: and possession of drug paraphernalia.
Also arrested was Brittany Downs age 27 of Murray Cemetery Rd., East Bernstadt charged with theft by unlawful taking – shoplifting.
Both individuals were lodged in the Laurel County Detention Center.
Photos attached are courtesy of Laurel County Detention Center.