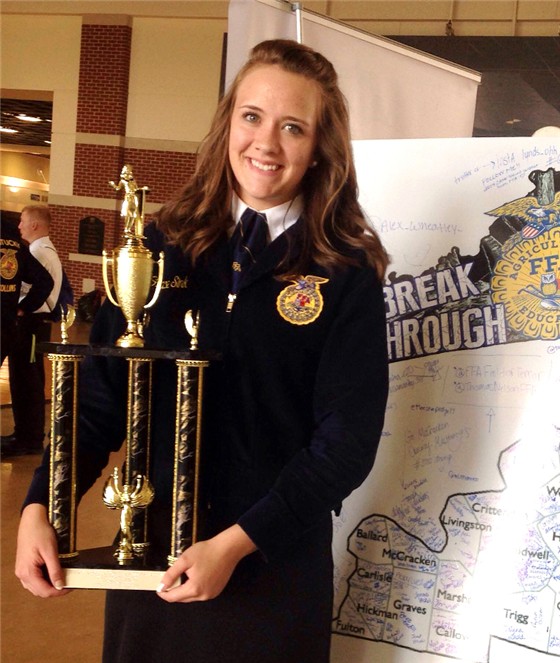 ONEIDA, Ky. - Grace Sink, a rising sophomore at Oneida Baptist Institute, placed first at the state FFA Creed Contest on June 10, 2015. The contest was held in Lexington, Kentucky as part of the State FFA Convention.
Sink qualified to compete at state by placing first in the regional FFA Creed Contest in March, 2015. She will represent Kentucky and compete for the national title at the National FFA Convention in October.
Sink is the daughter of Clay county residents Dr. and Mrs. Ian and Jennifer Sink and is the secretary of the FFA chapter at Oneida Baptist Institute, where her mother serves as an agricultural instructor and FFA sponsor.
The FFA Creed is 258 words and is recited by all FFA members before they can earn their Greenhand Degree. Sink said, "I chose to speak in the Creed Contest because of the importance of the Creed to the FFA and how it ties all FFA members together. It is the founding beliefs of all agriculturalists."
Once Sink was named to the top four in the state, she performed the Creed again in a final round. She recalled, "When I made top four I was very nervous and excited. Standing on the stage ... I kept praying God's will be done. When they called my name [for first place], it took me a minute to realize it was me. I was kind of stunned and very very honored."